Road Trips in Ireland: The Ultimate Guide

Nothing beats the freedom of exploring a new place on your own personalised road trip. The freedom of the open road, set against a backdrop of the picturesque Irish countryside. Stopping off where you like, seeing exactly what you like, meeting welcoming locals and enjoying Ireland at your own pace – sounds like the perfect holiday to us! 
That's why we've put together our ultimate Irish road trip guide, complete with route maps and our top picks for where to stop along the way. Whether you've got a few days, a whole week or even longer to spend here, these spectacular driving routes are all great scenic alternatives to the main roads, with no shortage of great attractions en route. 

Ireland's best road trips
From the rugged Wild Atlantic Way to the Causeway coastal route, check out our suggestions for what to see and do on each of the routes:
Ready to map out your Irish adventure with the best road trips to take in Ireland? Varying from two to seven days in length, these routes cover many of the top destinations in Ireland and each itinerary provides day-by-day highlights.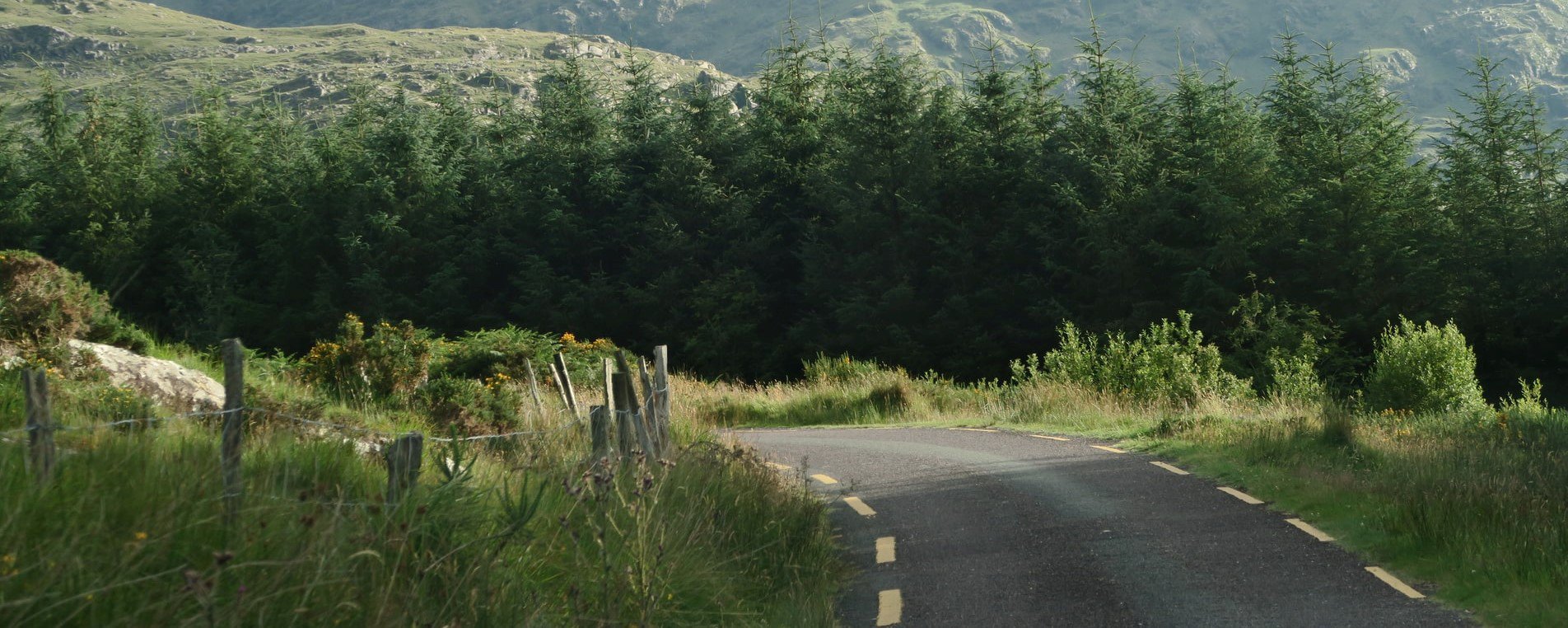 Practical information for your Irish road trip
But first, read on local pointers and driving tips below. Then all you have to do is sort the car rental at Dublin airport (and get your road trip playlist ready!)
How to get to Ireland
The best place to start your road trip through Ireland from is Dublin, due to the sheer number of direct flights that arrive here daily from around the world. You can pick up your car right at the airport and immediately start your road trip. Or you can head into the city first, spend a day or two there and then kickstart your road trip. (Whichever option you go with, you should definitely set aside a bit of time to explore Ireland's capital.)
For UK road trippers: Flights from London take just over an hour and you can snag seriously cheap tickets if you book ahead. You can also fly to Dublin from most other UK destinations and pick your car up from Dublin airport, which can save significant amounts of time. 
If you have more time to spare, you can drive your own car to Ireland. There are two ferry routes that operate between the UK and Ireland (Liverpool to Belfast and Liverpool to Dublin). If you're planning on bringing your car from the UK, make sure you're adequately insured.
For US road trippers: Any of the usual major hubs (New York, Chicago, Atlanta, San Francisco) offer direct flights into Dublin either daily or multiple times a week.
For European road trippers: There are direct flights to Dublin from all major European airports. 
Where to stay
Including restored castles, manor houses, elegant hotels, self-catering cottages, authentic B&Bs and budget-friendly hostels in the major cities and smaller towns across Ireland, there is no shortage of places to rest your head in Ireland. 
If you're looking for quirkier lodgings, there are even lighthouses, treehouses, barges, bubble domes, yurts and ringforts (!) peppered all across the countryside.
When to do an Irish road trip 
Honestly, there isn't a bad time of year to take a driving tour of Ireland. Very often, the weather does not actually differ that much from season to season. The changing seasons do bring a variety of activities, and it all depends on what you want to include in your itinerary. And believe the hype – you can experience rainfall any time during the year! So be sure to pack an umbrella and some waterproof outerwear.
 
Most road trippers like to make their way over to the Emerald Isle sometime between May and September (with peak season falling between July and August), which is when we tend to have the best weather and the most daylight hours. 
Low season typically falls from November through to April, so planning a road trip during that time period comes with some perks, including shorter queues at attractions and the possibility of some discounted airfares, car rentals and accommodation. 
How long does it take to drive around Ireland?
This really depends on how much you'd like to see and the pace at which you travel. Although the country is small, Ireland is the kind of place where you could travel around for weeks on end and still feel like you've only scratched the surface of what's there to see and do. 
The more days you can spend here, the better, but anything from a week to 10 days means getting to experience a good chunk of the island. A shorter trip in all likelihood necessitates focusing on a specific region (all the more reason to make a return trip, though!)

4 of Ireland's best road trips
One of the best ways to discover Ireland's stunning countryside, rich heritage and culture is to get behind the wheel and set off on a scenic self-drive tour. Here are some of our top picks for road trips you can take around Ireland.  
Whether you choose to spend a few days simply cruising around (in which case, pick whichever option best suits your trip timeframe) or a couple of weeks really exploring the length and breadth of the country (why not combine a handful of these?), the possibilities are endless.
 

Running through the magnificent landscape of Northern Ireland, the route owes its name to the mysterious geological formation and boasts some of the wildest, most dramatic scenery imaginable. 
Unsurprisingly, the Causeway Coastal Route is ranked by independent sources such as Lonely PlanetLonely Planet as one of the best drives in the world. It's also a good alternative if you have the Wild Atlantic Way on your all-time travel bucket list but you're tight on time. 
| | | | |
| --- | --- | --- | --- |
| Duration | Roads | Toll | Highlight |
| 120 miles (321km) | M1, A2, local country and coastal roads | M1 toll (can set GPS to avoid the toll in Northern Ireland) | Giant's Causeway |
Best Irish road trip for: Game of Thrones fans, coastal views.
Recommended itinerary for the Causeway Coastal Route
Day 1: The Dark Hedges, Carrick-a-Rede Rope Bridge and the Giant's Causeway. 
Make sure you hit the road early, so you have enough time for some seriously Insta-worthy photo opps at the Dark Hedges (better known as the King's Road in HBO's Game of Thrones) before the tourists descend en masse. 
Just a 20-minute drive away from here, you'll come across Carrick-a-Rede Rope Bridge. Time to steel your courage and lace up some sturdy footwear for a swaying, wobbly trek across this incredible suspension bridge. Perched 100 feet above the Atlantic ocean, with views of nearby Rathlin Island (and even Scotland on a clear day), this 350-year-old bridge was built by local salmon fisherman and offers unbeatable views of the rugged Antrim coastline.  
After this, it's onto the main event: the Giant's Causeway, one of the world's geological gems and Northern Ireland's only UNESCO World Heritage Site. Standing in front of the strange and eerie landscape of tens of thousands of large black basalt columns feels like stepping into a storybook. You'll soon start to understand why Irish folklore has it that the causeway was built by two feuding giants!
Day 2: Dunluce Castle, the Glens of Antrim and the Gobbins
Start the day with a leisurely drive to North Antrim and the sleepy coastal town of Dunluce to see one of Northern Ireland's most iconic castle ruins. Stand and soak in over 500 years of history – Dunluce Castle has witnessed some of the most dramatic chapters in Ireland's past, including its fair share of clan raids. Game of Thrones lovers – this is definitely one not to miss, as Dunluce Castle was also used as the seat of the House of Greyjoy in the series.
If you're keen to head a little off the beaten path, then a drive through the Glens of Antrim will have any scenery enthusiasts grinning from ear to ear. All nine glens are known as some of the most scenic driving roads in Ireland – and deservedly so. Towering mountains loom overhead as you wind your way through this majestic part of the county. If you fancy stretching your legs (and seeing waterfalls up close and personal), Glengariff Forest Park is the perfect option for a road trip pit stop.
If yesterday's adventure gave you a taste for more cliff adventuring, the Gobbins is your chance to take in even more of Northern Ireland's coastal scenery. A two-mile-long cliff-face walk featuring an array of bridges and caves and tunnels (oh my!) carved into the cliffs, there are even a few puffins to be spotted for the sharp-eyed birdwatcher amongst us. 

Where better to escape by car to than Kerry? With some of the country's best beaches, Kerry is the perfect destination for a summer break and should be at the top of your Irish road trip bucket list. This grand tour of Kerry takes you to all of the county's best sights and places. You'll drive through Killarney National Park, travel to iconic islands like Valentia and have plenty of opportunities to stop off along the way.
 
| | | | |
| --- | --- | --- | --- |
| Duration | Roads | Toll | Highlight |
| 111 miles (179km) | M7, local country and coastal roads | M50 toll (if departing from Dublin) | Killarney National Park |
Best Irish road trip for: Families, wildlife watchers, nature lovers.
What's the drive like? Yes, you can easily drive this route in one day. But the better option is to take your time and stretch it across a long weekend while doing some sightseeing along the way. Oh, and drive carefully as the road is narrow in parts (and tour buses tend to drive fast!)
Recommended itinerary for the Ring of Kerry:
Day 1: Skellig Ring and Valentia Island
The Skellig Ring might just be Kerry's best-kept secret. A relatively undiscovered corner of the Irish coast, it features an additional 20 miles of natural splendour you can easily tack on to your Ring of Kerry driving route. Get ready to soak in dramatic vistas of the Atlantic ocean and the Kerry cliffs. 
If time permits, we recommend getting out from behind the wheel to explore some of the charming historic villages (we especially love Ciall Rialaig famine village), empty beaches, castles and plenty more surprises along the way. 
The Skelligs and Valentia Island are scenic islands known for their rugged and dramatic landscapes. While no Kerry driving trip is complete without a spot of island hopping, do bear in mind that they're both popular tourist destinations. It's no secret that Skellig Michael, especially, can get very busy, particularly during the summer months when large numbers of avid Star Wars fans descend upon the island (yep, this was where Luke Skywalker was hiding out for all that time in The Force Awakens!)
Day 2: Killarney 
Absorb stunning mountain landscapes and glittering lakes as you travel through the majestic scenery that Killarney and its surroundings has to offer. If you're looking for lush countryside, make sure to stop at various points of interest to and from Kenmare. If historical castles are what you're after, then swing by Ross Castle and Muckross House. 
For outdoor pursuits and family-friendly activities, why not try a hike to the Gap of Dunloe, Torc Waterfall or a wildlife tour through Killarney National Park? If you can extend your journey by an extra day or two, taking the time to really explore this park would be our top recommendation.
Pro tip: If you kick off today's drive from Kenmare and drive clockwise around the ring of Kerry, you'll avoid being caught behind the many tour buses that frequent this route.
Day 3: The Dingle Peninsula
Along the Ring of Kerry route lies the Dingle Peninsula. Running 40 miles from Tralee to Slea Head, the peninsula follows a coastal fringe of tranquil beaches overlooked by soaring mountains. Iconic castles, prehistoric ring forts, early Christian chapels and much more line the route. 
A worthwhile overnight stop is the delightful fishing village of Dingle, where you can feast on freshly caught seafood and take in one of the town's world-famous traditional Irish music sessions. 
 
If you're planning your Irish road trip and thinking about d(r)iving into 9,000 years into the past, look no further than Ireland's Ancient East. When it comes to historical road trip destinations that are both entertaining and educational, this one's hard to beat. 
 
| | | | |
| --- | --- | --- | --- |
| Duration | Roads | Toll | Highlight |
| 240 miles (385km) | M50 (if departing from Dublin), local country and coastal roads | M50 and N8 tolls | Newgrange |
Best Irish road trip for: History buffs, castle-spotters.
Recommended itinerary for Ireland's Ancient East
Day 1: Glendalough
Looking to make the most of this weather-beaten ancient landscape? Then it's time to don your hiking boots and get ready to soak up the peaceful vista at Glendalough (Valley of the Two Lakes), located around an hour away from Dublin city centre. Things to look out for include the medieval monastic site, complete with a 1,000-year-old round tower. This iconic part of Wicklow is packed with history and legends and plenty of flora and fauna highlights along the way.
The full walk to the top of the valley takes approximately three hours and is reached with some scrambling in the final stages, but provides panoramic views that are second to none. Trust us, you'll want to take some time up there at the top to soak up the scenery! Of course, there are also several beginner and moderate trail options to choose from depending on the incline or length you're after. 
Day 2: Kilkenny
If you decide to make Kilkenny City your next stop along Ireland's Ancient East, then you're in for a treat. It's relatively small and walkable and very easy to navigate. Once you've arrived, the charm of the city will make you want to stay forever. The Medieval Mile is a series of cobblestoned alleyways lined with small coffee shops and pubs and the perfect spot to while away the afternoon.
Kilkenny Castle, nestled into the heart of the city, was built following the Norman conquest in the 12th century and fell into disrepair over the centuries until it was renovated in the Victorian era. With its lush parklands and landscaped gardens, this castle couldn't be better placed for anyone looking to stretch their legs and have a leisurely picnic.
Days 3 & 4: Wexford
Today, you'll kick things off with a walking tour of Wexford Town, founded by invading Viking forces in 800 CE. From haunted mansions (Loftus Hall) to centuries-old places of worship (Tintern Abbey), Wexford's historical sites serve as a window into the county's past. 
Just outside of Wexford town, you'll find the National Heritage Park, an open-air archeological museum that reconstructs over 9,000 years of Irish history. And why stay at another run-of-the-mill hotel when you can hunker down for the night in one of their 1,500-year-old ringforts?
Day 5: The Boyne Valley
Looking for a place that's even older than the Pyramids? How about Stonehenge? 
Just a couple of hour's drive from Wexford lies the last place on our route – Brú na Bóinne in Co. Meath, a neolithic burial ground that encompasses three passage tombs: Newgrange (a UNESCO World Heritage Site which aligns with the winter solstice), Knowth and Dowth, home to some of the finest examples of megalithic art in the world. 
Onwards from here, it's a mere half-hour drive to the legendary Hill of Tara, the ancient seat of the High Kings of Ireland. And if time permits, it's well worth making a sunset stop at Trim Castle, where scenes from Braveheart were filmed. 

We've saved the best for last. After this epic 8-day drive, you'll feel like you've genuinely seen our beautiful country. Spanning 1,600 miles of jagged coastline, rugged wilderness and superb beaches, it goes without saying that this one-week route is a stunner, all the way from Donegal to Kinsale in Cork.
 
| | | | |
| --- | --- | --- | --- |
| Duration | Roads | Tolls | Highlight |
| 1,600 miles (2,600km) | Local country and coastal roads | None | Cliffs of Moher |
Best Irish road trip for: Coastal views, wildlife watchers.
Recommended itinerary for the Wild Atlantic Way 
Day 1: Donegal
This country of coastal villages and gorgeous outdoor scenery makes for a truly inspiring start to your Wild Atlantic Way road trip. Drive along the coastline and explore the cliffs of Sliabh Liag, before heading for a closer look at the enchanting Glenveagh Castle and (one for any wannabe surfers) our favourite secluded beach of them all, Dunfanaghy. 
Day 2: Mayo
It can be so easy going between the Wild Atlantic Way's big-ticket sights that you miss out on the beauty of the wild countryside all along the Surf Coast. This is an absolutely captivating drive, and is ideal for those who want to take a break, walk around and breathe in the fresh salty air. 
Achill is the largest island in the county and features beautiful nature, sandy beaches and cliff-edge hikes for everyone to enjoy.
Days 3 & 4: Galway
From Mayo, the logical (and most eye-catching) route lies on the drive through the Sligo coast, down to Clifden and through idyllic, wild Connemara in the 12 Bens mountain range. Connemara is best known for two things: the rugged landscape and the almost impossibly adorable Connemara ponies that have made this corner of the world their home. 
Those less enthused about equestrian life can press onward down the coast to Galway City, the artistic, bohemian beating heart of the island. Take a bracing seaside walk along Salthill or the Spanish Arch. Galway Bay is also the most straightforward route out to the three remote Aran Islands (Inishmore, Inishmaan and Inisheer), easily reachable by ferry. 
While it's hard to narrow it down to one must see while you're island hopping, if we had to, it'd be the Iron Age fort Dun Aonghasa.
Day 5: Clare
Going a little further inland, today is the day you witness one of the strangest, most unique landscapes Ireland has to offer visitors. The Burren National Park is truly something to behold. A massive expanse of rocky pale grey limestone, the Burren was hewn by glaciers many millennia ago and forms a sharp contrast to the lush green parklands surrounding it. 
Up next, the Cliffs of Moher. Road tripping along the Wild Atlantic Way without witnessing these outstanding and breathtaking cliffs is simply unthinkable (just remember to pack a windproof jacket, things are about to get pretty gusty!) 
Days 6 & 7: Kerry 
We've a whole separate itinerary for Kerry above so we're not going to go into too much detail here – just jump up to that section for a deep dive into what to cover on this section of the Wild Atlantic Way.
Day 8: Cork
Finishing up your road trip with a bang, the last day culminates in a stop at The Old Head of Kinsale, before continuing onward to the sleepy coastal village of Skibbereen. Finally, you'll meet Ireland's most south westerly point, Mizen Head. Time for an exhilarating walk down the cliffs and you've officially done it, coast to coast!