Scenic Drive from Galway to the Cliffs of Moher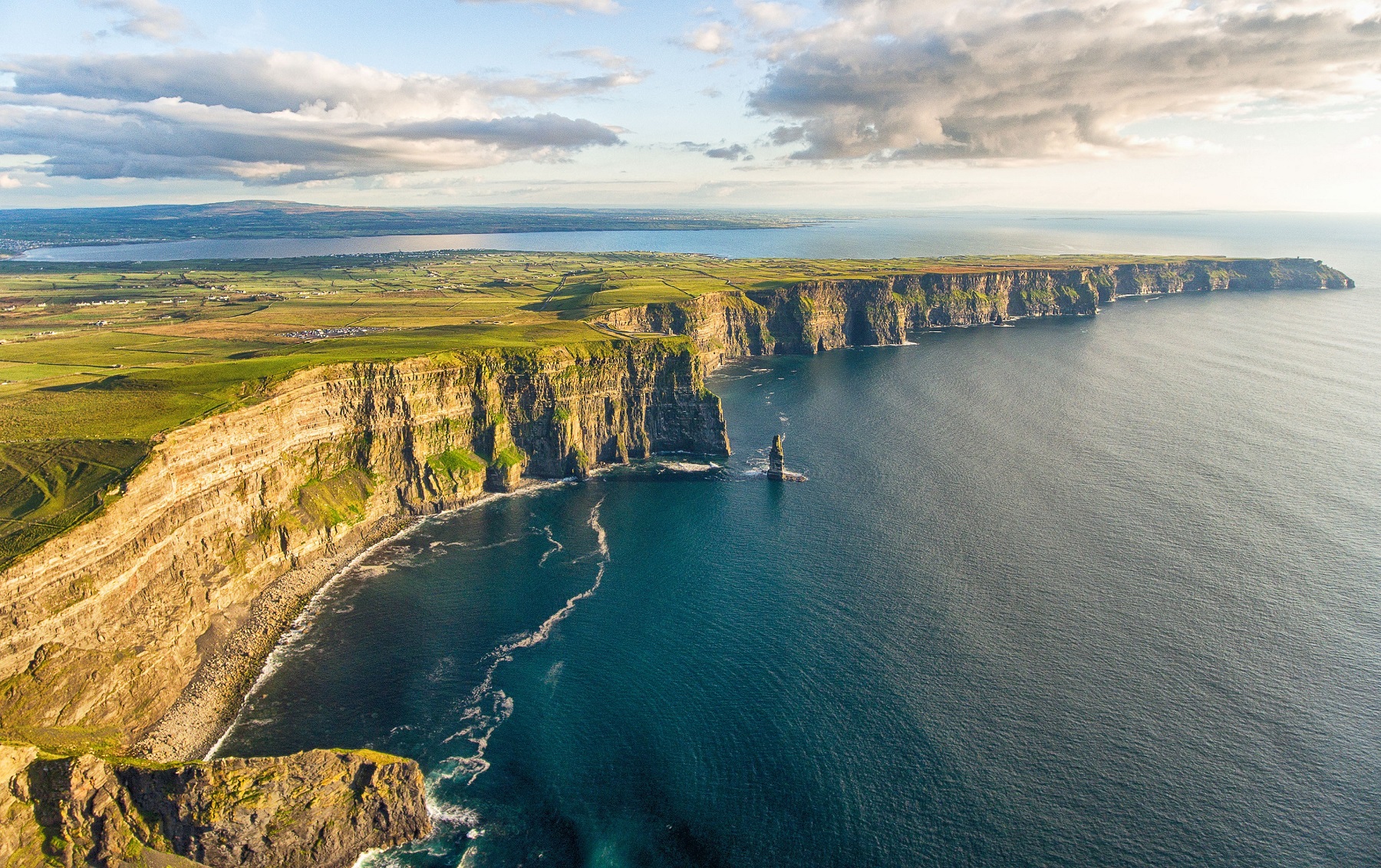 Road trip itinerary and en-route stops
You've picked up your rental car from Dublin Airport and have made your way across the island of Ireland to beautiful Galway. You've heard all about the amazing scenic drive from Galway to the Cliffs of Moher and now you're ready to embark! But wait, there's so many places to see along the way it can be hard to choose. That's why we've put together this itinerary to help you out. Whilst the drive is around an hour and a half if you're going direct, we recommend giving yourself a full day of sightseeing if you follow our guide.
Tip: If you're planning to see more of Ireland, you'll want to check out our perfect Irish road trip itinerary to make sure you get the most out of your trip and see all the highlights of this incredible country!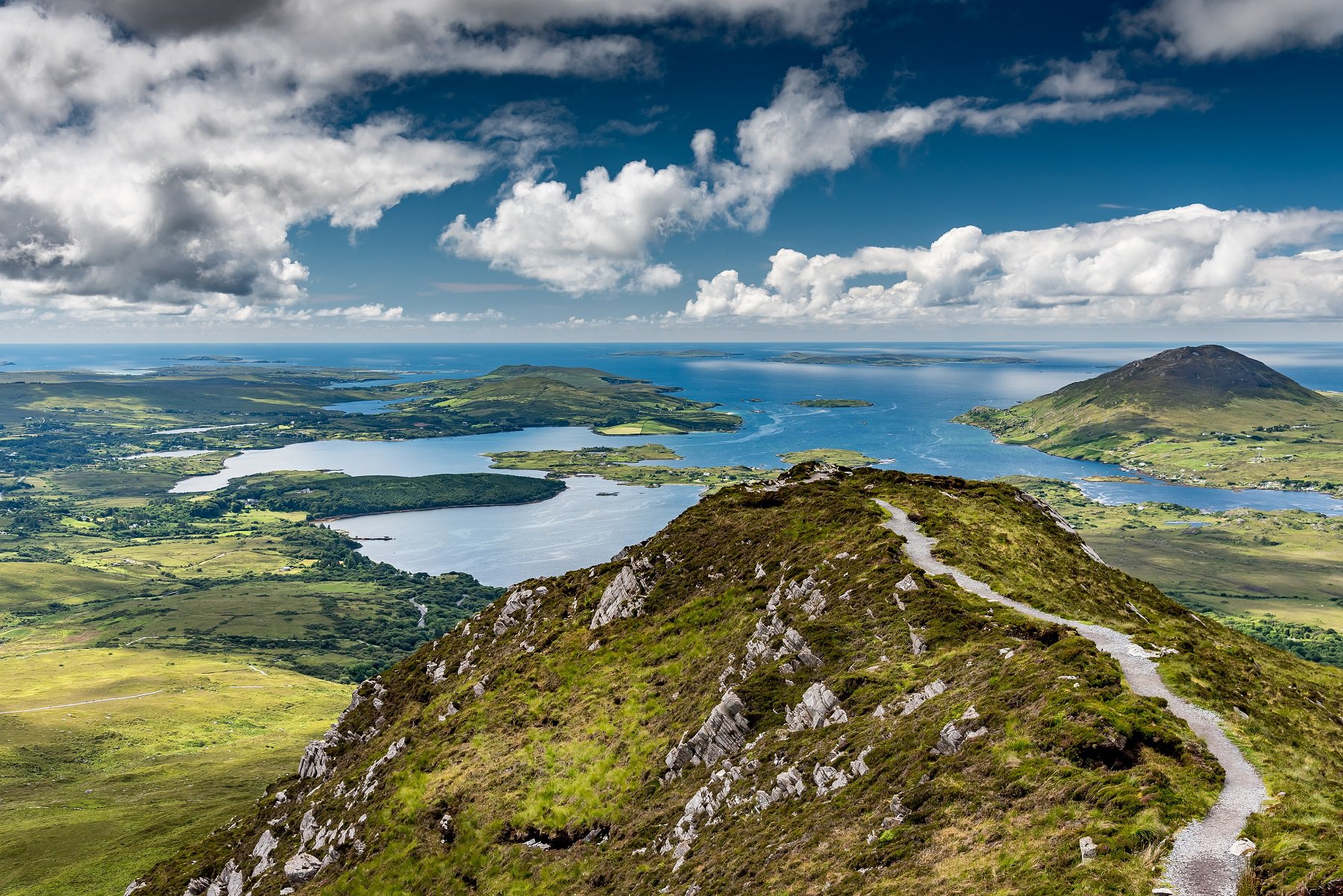 Stop 1: Connemara National Park
We recommend you get up nice and early and head west from Galway city to discover the beautiful Connemara National Park. Covering 3,000 hectares dotted with rugged mountains, vast expanses of bogs and endless woodlands, the park is totally otherworldly.
Here, you'll be able to spot the towering peaks of Benbaun, Bencullagh, Benbrack and Muckanaght, part of the famous Twelve Bens, while meandering your way along one of the scenic routes. If you reach the summit of Diamond Hill, you'll be rewarded with breathtaking views of the distant islands of Inishbofin, Inishturk and Inishshark.
Stop 2: Kylemore Abbey
Set in the grounds of Connemara National Park amongst dense woodland on the banks of a shimmering lake, Kylemore Abbey, originally built in 1868 as a castle, has been home to Benedictine nuns since 1920, when they moved there after their Abbey in Ypres, Belgium was destroyed in World War I. 
After moving to the Abbey, the Benedictine community began to restore the buildings, the 6-acre walled garden and surrounding areas and have developed them into a truly stunning tourist attraction. 
Explore the Abbey, the walled garden and the Gothic church before nipping into the café for some delicious baked treats to keep your road trip fuelled!
Stop 3: Clifden
As you make your way back towards Galway to then head to the Cliffs of Moher, you'll pass through a delightful little coastal town we'd recommend a pitstop in called Clifden. 
The town itself is nestled between the Twelve Bens mountain range and the Atlantic Ocean and offers plenty of activities for visitors at any time of year. If you're lucky enough to get some nice weather, you can take a dip in the crystal clear waters, or you can stay cosy in one of the many restaurants, cafés and bars in the town.
The Annual Traditional Music Festival takes place in Clifden every April and you'll see many musicians and dancers performing on the streets and in local bars. In May, the Tour de Conamara cycling adventure departs from and then finishes in Clifden, whilst the well-known Clifden Connemara Pony Show usually takes place on the third Thursday in August.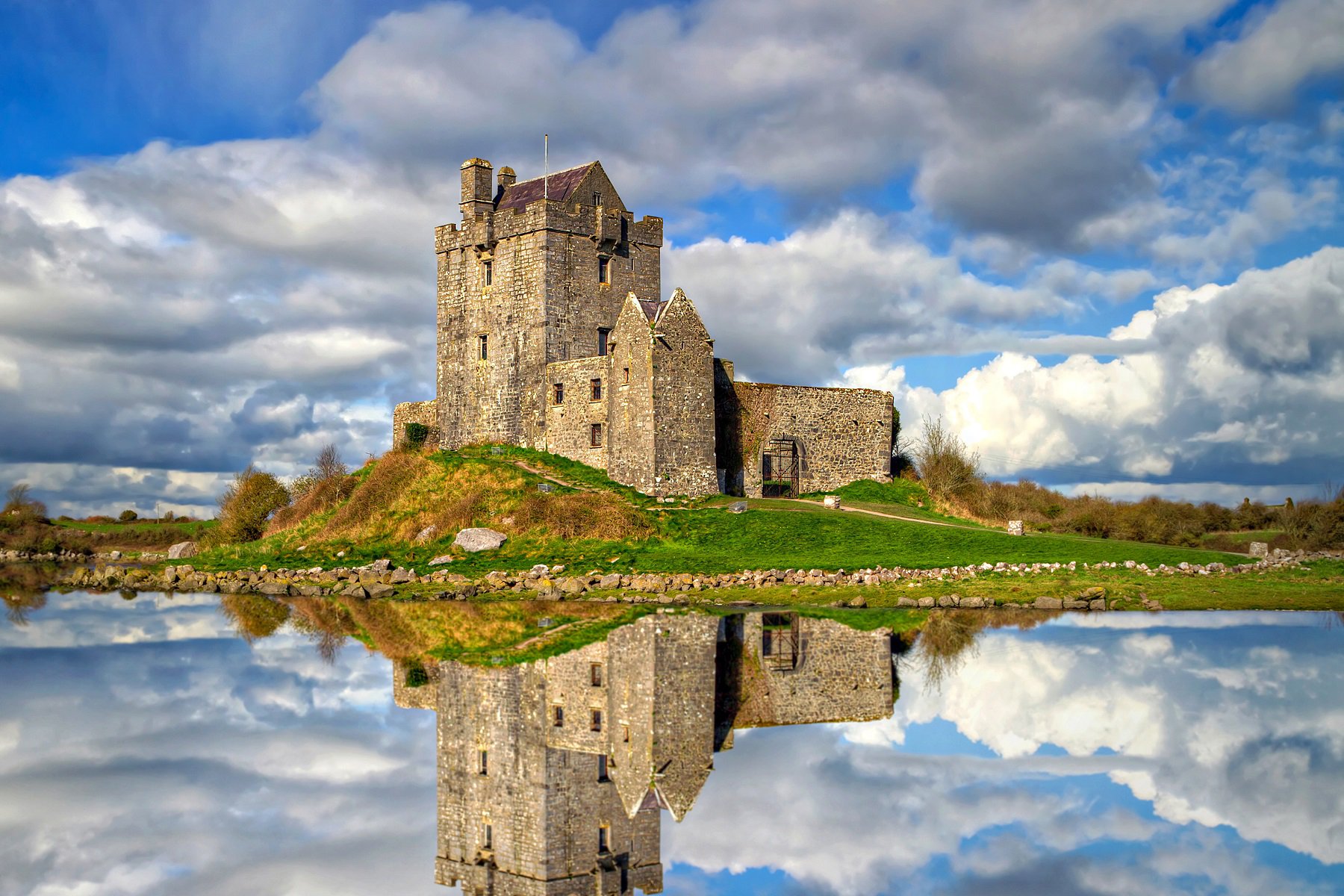 Stop 4: Kinvara
You've made your way back through Galway City and you're now on the road to the Cliffs of Moher! You're probably getting a little bit peckish at this stage and luckily the port village of Kinvara is well-known for its deliciously fresh seafood! Grab yourself a fish and chips or whatever takes your fancy and eat it along the harbour.
Dunguaire Castle, built in 1520 is the next stop along the way. The castle has a rich history and was once the venue for meetings of Irish literary greats such as W.B. Yeats, George Bernard Shaw, Edward Martin and J.M. Synge. It is wonderfully picturesque so make sure you take plenty of snaps along the way!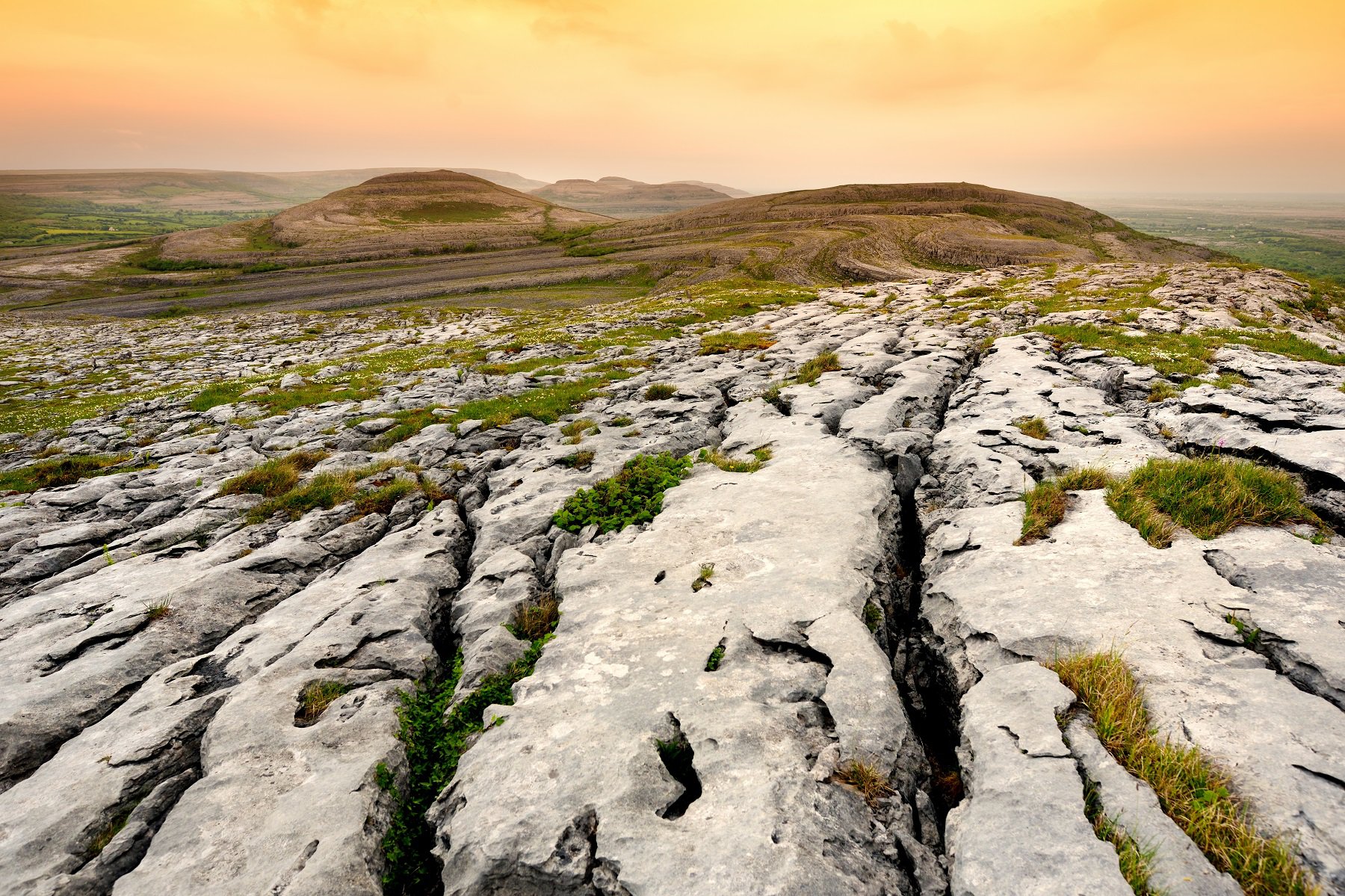 Stop 5: The Burren and Aillwee Cave
You've now crossed the border from Galway to Clare and you're a step closer to the Cliffs of Moher! However, you have to visit another one of Ireland's most popular tourist attractions since you're in the area.
The Burren, stemming from the Irish 'Boíreann' which means 'rocky place', is the perfect word to describe this spectacularly unique landscape. The park is approximately 1,500 hectares and is a karst area, with very little soil cover and exposed limestone pavement that creates an almost lunar landscape. 
While it might not seem like there's much to discover in the Burren, you'll be pleasantly surprised! The area is home to many species, including 95 different types of birds, 27 types of butterflies, foxes, badgers, bats and even lizards! 
Perhaps even more interesting are the various flora found in the park; species usually found continents apart, for example in sub-arctic and southern European regions, can be found growing side by side in the Burren.
The Burren is also home to the Aillwee Cave, one of the oldest caves in Ireland which gives a fascinating insight into life under the limestone. The cave is home to a frozen waterfall and numerous caverns which you can explore.
Step 6: Doolin
The final stop before you reach the Cliffs, Doolin is a wonderful little village filled with colour and character. There's plenty of pubs and restaurants in the village to keep you full, but if you fancy something different there's plenty of options. One we'd highly recommend if you have time is to take the Doolin ferry out to Inis Oírr, where you can roam around this rural paradise on a bike or by foot, taking in the magnificent views.
From Doolin, you can even do a guided walking tour to the Cliffs of Moher, or see them from a different viewpoint with a ferry trip underneath.
Make the most of your scenic road trip from Galway to the Cliffs of Moher
As you can see, there's so many different things to do and see on your road trip to the Cliffs of Moher from Galway. Whether you're interested in history, adventure, food and drink or simply just relaxing and taking in the scenery, there's something for everyone.