The Ultimate Wild Atlantic Way Road Trip Itinerary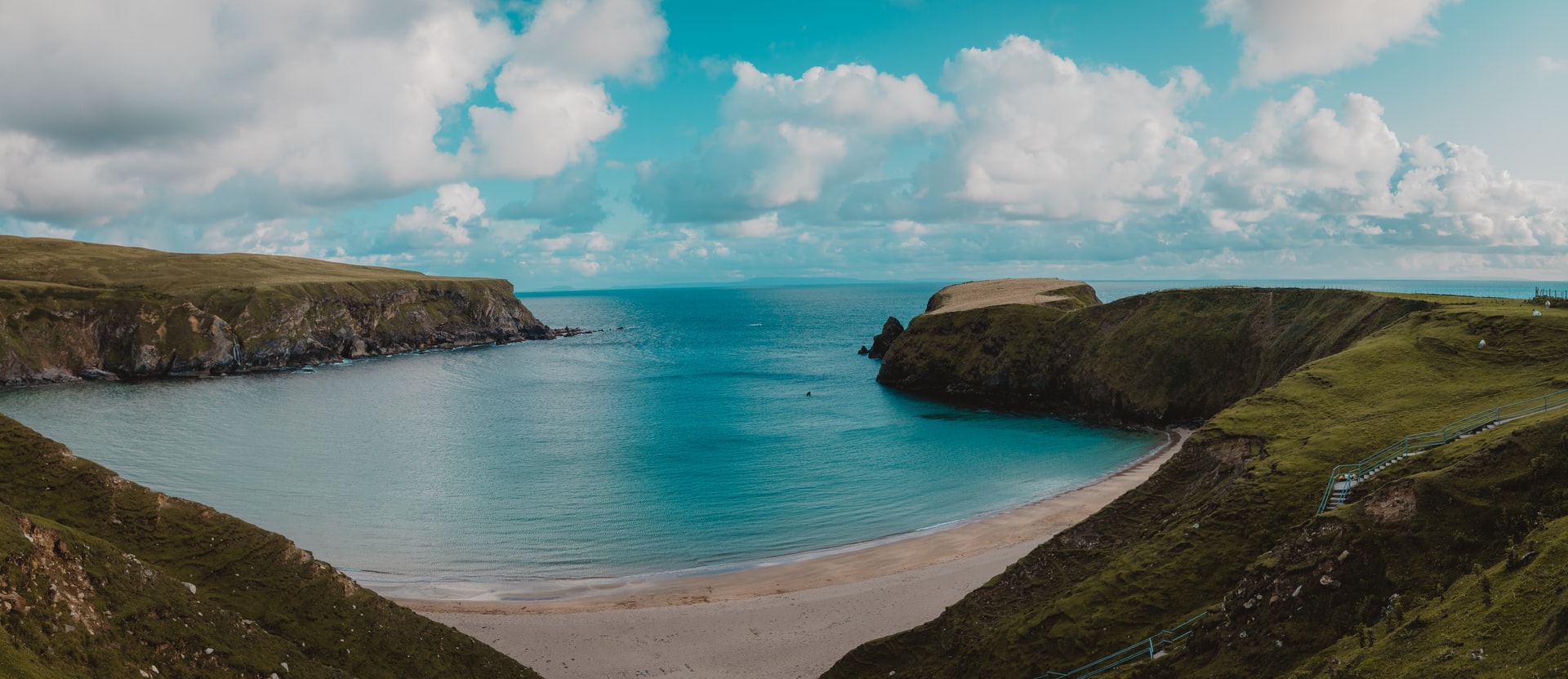 Want a real flavour of Ireland on a route that's fun to drive and has breathtaking scenery to boot? In the Wild Atlantic Way, Ireland has one of the best road trip routes in the world. Coastlines and castles, beaches and harbour towns, cliff walks and abbeys, mountain ranges and rugged islands – all this lies ahead of you (and much, much more) as you explore Ireland's Wild Atlantic Way.
Taking in a range of cities and towns, stretching from Donegal to Cork, you can explore Galway, Westport, Kenmare, and more. You'll also see many miles of countryside, weave through rural communities and even journey through Connemara (one of our national parks) and Skellig Michael (a UNESCO World Heritage site!)
But before you load up on travel snacks and hit the road, make sure you build the ultimate Wild Atlantic Way itinerary with this list of great places to visit...
Time needed: 1 - 2 weeks. While you could easily spend upwards of three weeks to really get the most out of the Wild Atlantic Way (it is the world's longest coastal route, after all), most people only end up exploring a portion of it. 
Distance covered: 2,500 km
Recommended route: You can either start at Inishowen Peninsula in Donegal, Ireland's most northerly point (about a 3.5 hour drive from Dublin) or kick off your road trip at Kinsale in Cork (approx. 3 hours from Dublin). Below, we're tackling the route north to south.
Highlights: Cliffs of Moher, Connemara, Ring of Kerry, Achill Island, Kinsale
Areas covered:
The Northern Headlands (from Malin Head to Donegal town)
The Surf Coast (from Donegal Town to Erris)
The Bay Coast (from Erris to Galway Bay)
The Cliff Coast (from Galway to Ballybunion)
Southern Peninsulas (from South Kerry to West Cork)
The Haven Coast (from Bantry to Kinsale)
6 Wild Atlantic Way driving routes 

When it comes to taking in as much of the route as possible – and at your own pace – a self-driving tour is undoubtedly the most appealing option. We've compiled a roundup of some of our favorite drives that show off the Wild Atlantic Way's dazzling beaches, craggy cliffs, quiet villages, and secluded islands. So hop in and let's get going!
1. The Northern Headlands
Located on the northern coast, this route strings together charming fishing villages (Burnfoot is a particular favourite of ours), jagged sea cliffs, and many miles of unspoiled and unsung sandy beaches. A combination of dramatic coastline, sleepy villages, rolling hills and – if you time it right – almost deserted roads makes this drive a classic to savour. 
(Depending on the time of year, you can even catch a glimpse of the Northern Lights by taking a drive along the Inishowen 100 to Malin Head, the most northerly point of the island.) 
The seascape gets more and more spectacular as you go along, from the dramatic rock formations of Sliabh Liag, the highest sea cliffs in Europe and one of the wild Atlantic Way's signature discovery points, all the way to the tranquil valley of Glengesh Pass, surrounded on either side by imposing mountains. 
If you're chasing even greater heights, we recommend a pit stop at Fanad Lighthouse. There are also some fine historic properties in the Northern Headlands, and Doe Castle, a moated stronghold nestled into Sheephaven Bay, is perhaps the finest of them all. 
Extend your trip at either end with a visit to Glenveagh National Park and Donegal town. We also recommend a trek over to the Gaeltacht island of Arranmore. The stepping-off point from the mainland and of everyday life, the pristine waters here have a rich and diverse array of marine wildlife to enjoy. 
2. The Surf Coast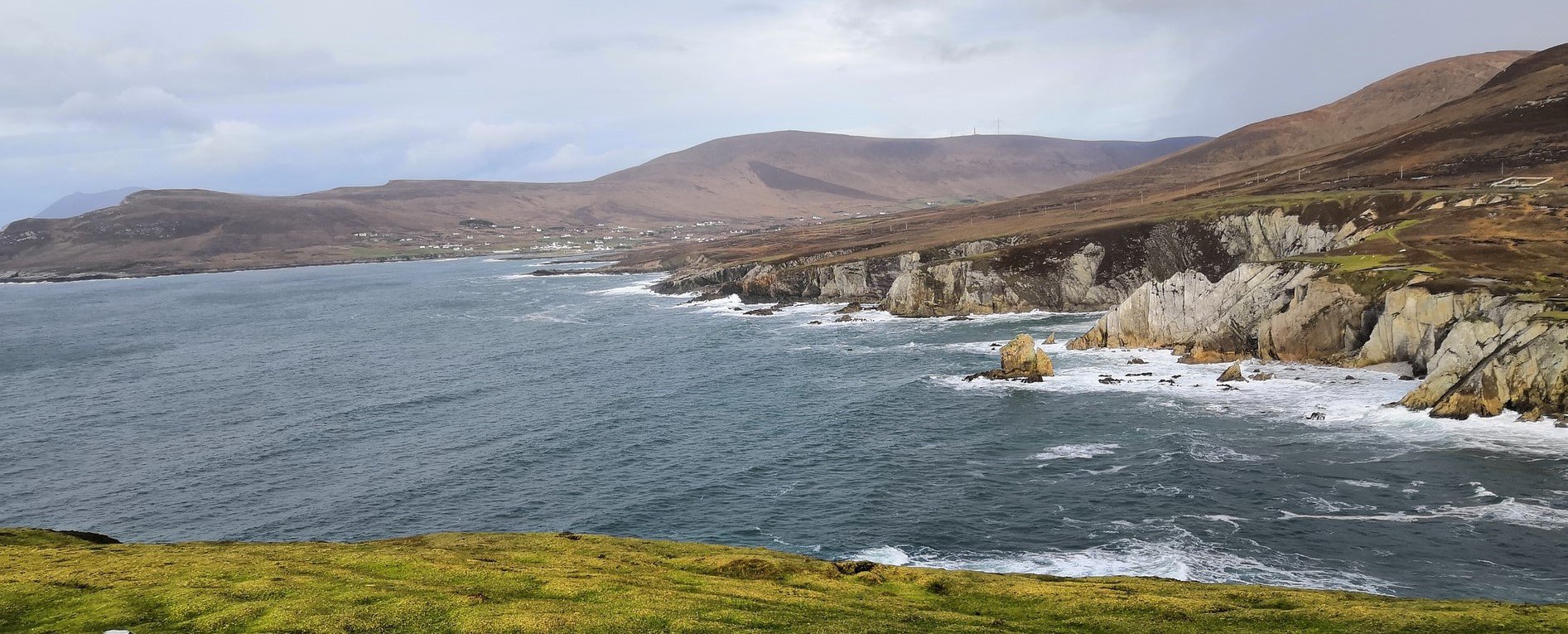 From the tiny fishing village of Mullamore Head, to the towering Dartry Mountains, The Surf Coast is about so much more than surfing (it also has paddleboarding, kitesurfing, kayaking...the list goes on!) 
It also offers some of the Wild Atlantic Way's best coastal scenery, with villages in peaceful cliff and cove settings. And because it's the last-visited region of the Wild Atlantic route, there's usually very little rush, traffic, or noise except the sounds of the swelling seas nearby. 
Make sure you leave plenty of time to soak up all the sights along the way. Whether it's the exhilarating hiking trail of Croagh Patrick (one of Ireland's best-known holy sites) or taking leisurely coastal walks along Bundoran, Strandhill, Easkey and Enniscrone beaches to get some of that tangy sea air into your nostrils, there's always something worth stopping for right around the bend.
3. The Bay Coast
There aren't any rules on this portion of your Wild Atlantic way road trip. Aside from Achill Island, that is – this bewitching island, accessible by a road bridge, is one not to miss. On a sunny day, Achill conjures more than a hint of the Mediterranean. When it's overcast, brooding clouds lend extra majesty to the rolling green hills, while racing waves heighten the dramatic sense of otherworldliness.
From Erris you can choose to head west towards Connemara, a dream destination for anyone who likes the outdoors. Next, it's time to explore the market town of Clifden, before undertaking the jaw-dropping Sky Road drive while overlooking the majestic 12 Bens mountain range (there's even a glacial fjord ripe for discovery here at Killary Harbour). 
Or, you can choose to go right to the blog trails of Ballycroy National Park (a must-see for nature lovers) and spend the rest of your time soaking up the culture and craic in the medieval city of Galway. Whichever way you go, expect winding roads, country lanes and seriously spectacular climbs, plus lots of detours you can take along the way to help you make your own discoveries. 
4. The Cliff Coast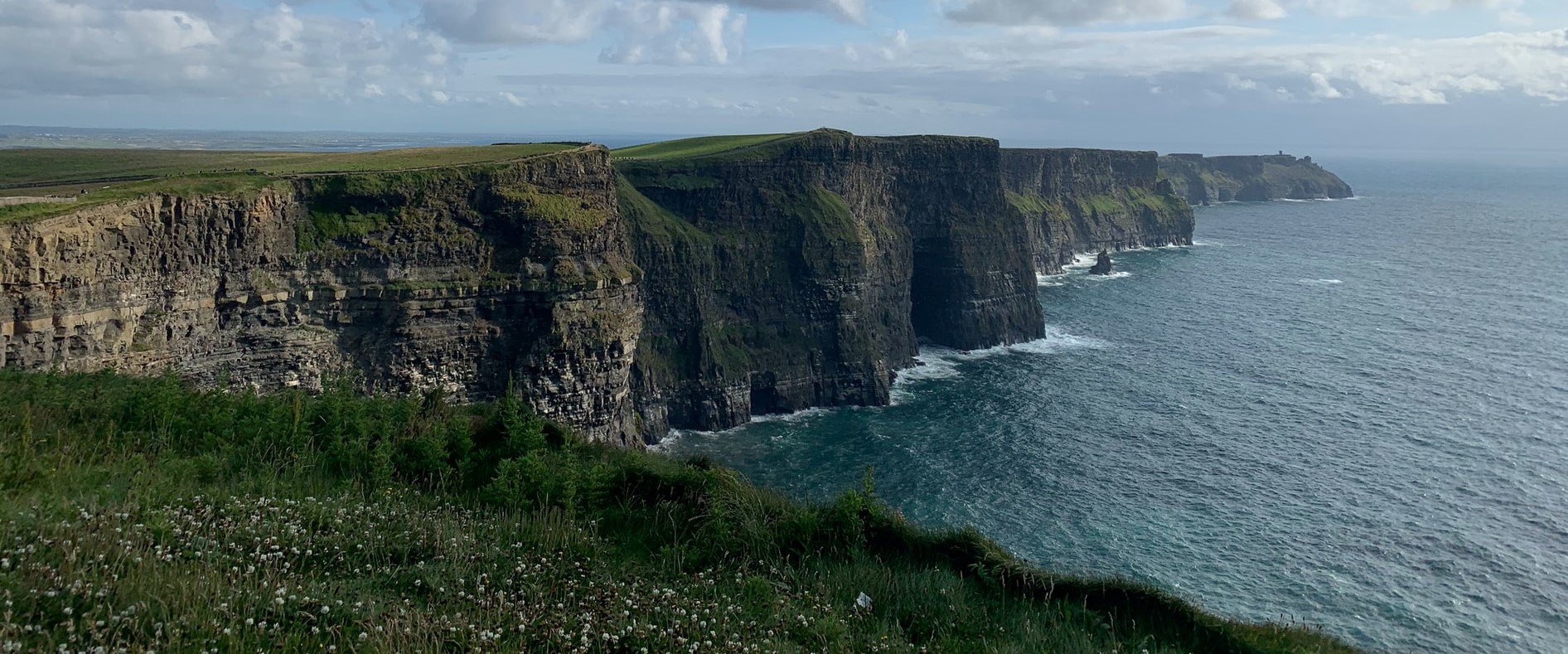 Plan a journey along the Cliff Coast and we promise you won't regret it. We're pretty confident it was already your Wild Atlantic Way bucket list in any case, as this region also happens to be the home of some of the route's best-known sights. 
Anyone looking to feel like they just stepped foot on the moon should mark the eerie, vast limestone expanse that comprises the Burren on their map. It's not all about geological wonderment, though – the Burren has several walking trails through the lush meadows and extensive woodlands of the Burren National Park and Slieve Carran National Reserve.
A staple of any Wild Atlantic Way self-drive tour is the Cliffs of Moher. The most famous cliffs in Ireland, the Cliffs of Moher aren't just a natural landmark – there's also a popular walking trail that weaves along the top of them. For decades now, they've beckoned keen hikers and casual strollers with their winding paths and staggering views in all directions (plus, some seriously impressive panoramic views of the Atlantic ocean). 
Of course, when the sun comes out there isn't much that beats a little sand between the toes and a dip in the sea. A family-friendly crowd pleaser along the Cliff Coast driving route is Spanish Point, which offers an expanse of golden sand that's perfect for walks along the coast. Best of all, Spanish Point is generally quiet (maybe it's the chilly water that does the trick?)
Near the journey's end in western Clare, the Loop Head drive will fill your windows with stunning views. From here you can stop and enjoy the surroundings, which include ample wildflowers and wildlife, or continue on to the river Shannon to indulge in some dolphin-spotting.
5. Southern Peninsulas
With spectacular sandy beaches, soaring mountains and beautiful islands, it's no wonder that Kerry is the first place many people think of when planning a road trip along the Wild Atlantic Way. 
If you like dramatic pinnacles jutting out of the sea, with waves crashing around them, then you can't get much better than the Skellig Islands. The entire Ring of Kerry drive is filled with epic vistas, but it's the sight of the rock stacks rising out of the water that entices most visitors to this region.
And while Killarney National Park is justifiably renowned for its scenic landscape, the most awe-inspiring views (especially of the Blasket Islands) are seen from the other side of this wild and wonderful county, along the Slea Head drive on the Dingle Peninsula. If time permits, we urge you to take a boat out to the big island. Across the Dingle Peninsula, beautiful beaches stretch as far as the eye can see here (Inch, Glenbeigh and Ventry are our top picks of the bunch). 
6. The Haven Coast 

At this stage of your road trip things could go one of two ways: either you'll be brimming with enthusiasm to make the most of what time you have left and want to do as much sightseeing as possible, or your energy levels will be wavering a little and you'll be in the mood for something relaxing before you head back home. Either way, the Beara Peninsula drive has what you're looking for in spades. 
West Cork is where the Atlantic intersects with the Gulf Stream, and the climate veers towards the subtropical as a result. These three picturesque seaside villages, Bantry, Clonakilty and Baltimore, are perfect for a spot of relaxed wandering and experiencing West Cork's thriving artisanal scene, followed by a sprawl on the golden sand or a walk along the water at one of the inlets nearby. 
For a truly unspoilt island experience, we recommend getting a boat over to Cape Clear. Spend a leisurely few hours here, grabbing a cold drink or some goat's ice cream (depending on the time of year) and enjoying the island's stunning vistas.
From West Cork, you'll make the meandering drive to the Old Head of Kinsale. Climb to the top of this lush headland and envision the sinking of the RMS Lusitania in 1915 – its final resting spot lies just a few kilometres out from the Old Head. 
After a few hours walking around Kinsale village, grab some fish and chips and hit the road for your last drive to Mizen Head, the most southerly point of mainland Ireland. This headland is located on another staggeringly beautiful stretch of coast. If you explore around the headland in both directions, you'll be met with mind-blowing views. You can spend 10 minutes here, or a few hours here – that part's up to you!
The only thing left on the agenda is driving back to Dublin to start your journey home, so pack your things and hop in the car whenever you're ready to go. Once you've made it back to the capital, drop off your hire car, spend a little time in Dublin if you fancy it, then make your way to the airport. We hope you've enjoyed your Wild Atlantic Way experience!
For more ideas for planning an unforgettable scenic drive around Ireland, check out our list of the best road trips in Ireland.