The Ultimate Ireland's Ancient East Road Trip Itinerary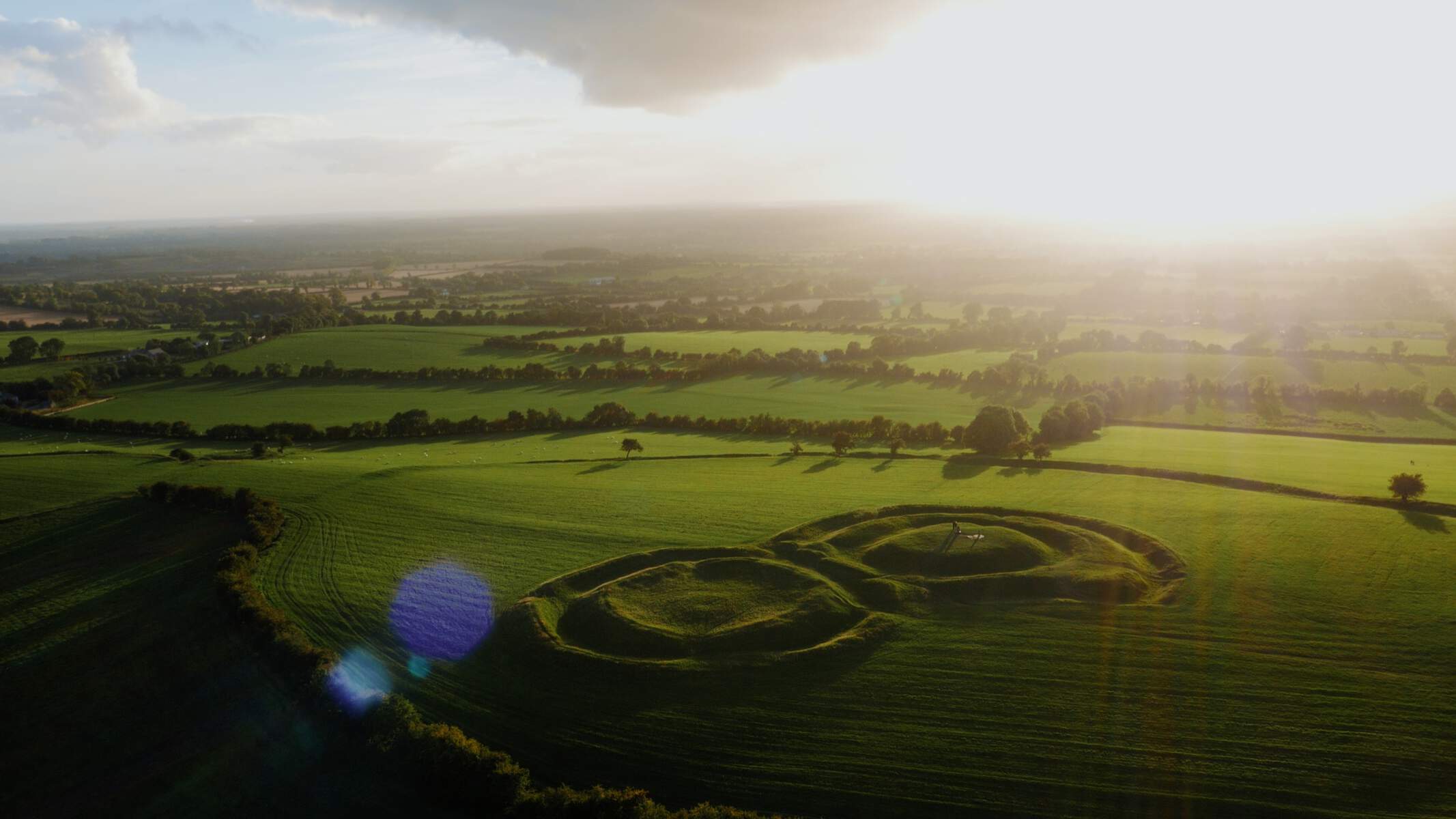 Whatever type of Irish road trip you're planning, there are many different routes you can take to experience this wild, rugged country up close. 
While the Wild Atlantic Way tends to garner the most attention as one of the world's most iconic bucket list drives, for the history buffs and lovers of Irish mythology and folklore among you, a road trip along Ireland's Ancient East is real must do.
What is Ireland's Ancient East?
Eastern Ireland's answer to the hugely successful Wild Atlantic Way, Ireland's Ancient East was an initiative launched by Failte Ireland in 2005 to get tourists exploring the country outside of Dublin. With its array of stone age monuments and passage tombs (that predate even the Pyramids), early Christian monasteries and ancient churches, all nestled within scenery destined to take your breath away, there's something truly magical and otherworldly about Ireland's Ancient East. 
Where is Ireland's Ancient East?
Spanning all the way from the Boyne Valley in the north east of the country, down through the midlands via Kilkenny's Medieval mile to Waterford's Viking Quarter and into East Cork, this exhilarating scenic drive is divided up into three main sections: 
The Land of 5,000 Dawns (Longford, Louth, Meath, Monaghan and Westmeath)
The Historic Heartlands (Offaly, Laois, Kildare, Tipperary, Limerick, Carlow and Kilkenny)
The Celtic Coast (Wicklow, Wexford, Waterford and East Cork)
Ireland's Ancient East driving tour routes are easy to follow and well signposted – simply look out for the distinctive orange logo.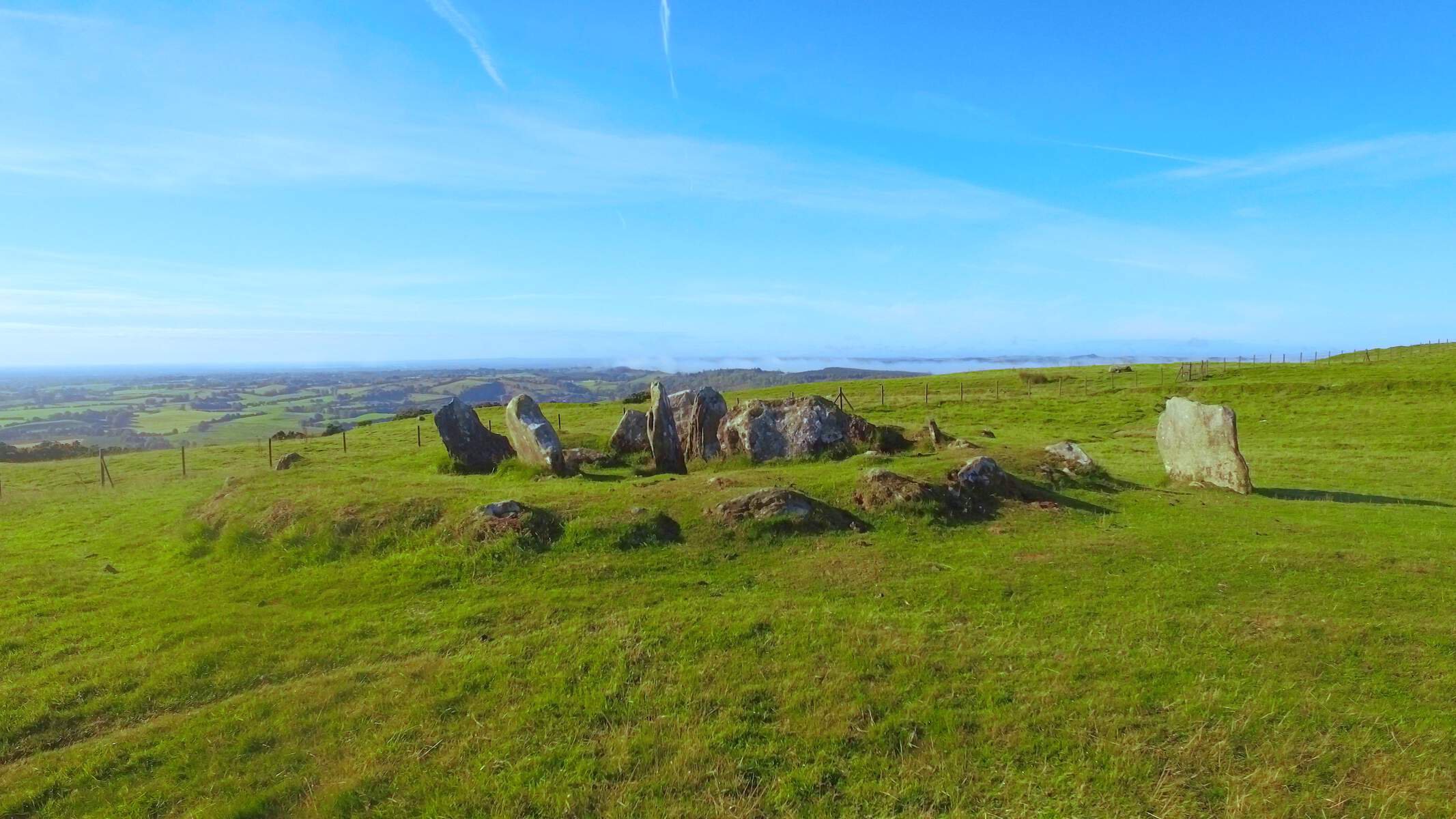 MAJOR ATTRACTIONS ALONG IRELAND'S ANCIENT EAST
With many hundreds of miles of early Christian, medieval and Anglo Irish history to uncover, it's no surprise that this road trip takes in an almost overwhelming number of archaeological, cultural and historic sites. To make things easier, here are all the essential stops you should make on your road trip through Ireland's Ancient East:
Lough Gur
Rock of Cashel
Waterford's Viking Triangle
Kilkenny's Medieval Mile
Dunbrody Famine Ship
Glendalough
Clonmacnoise
Athlone Castle
Boyne Valley
Cavan Burren Park
Length of road trip
5 - 7 days, 18 hours of driving time. 
What's the best way to see Ireland's Ancient East?
Unless you're taking an organised tour through Ireland which incorporates portions of Ireland's Ancient East, you're going to need to figure out how to get around the country independently to properly experience the route. 
Trains and buses can be a good option for those who are only interested in visiting the major cities and towns along Ireland's Ancient East. However, if you want to venture into the countryside and visit some far-flung areas along the way, having your own vehicle is going to be necessary. By far the easiest way to do this is with your own rental car – that way, you have the flexibility of tailoring your own Ancient East road trip, depending on what you most want to see and how much time you have.
How long does it take to drive along Ireland's Ancient East?
The length of this road trip in its entirety usually averages five to seven days at minimum (covering 5,000 years of Irish history and culture is no small feat!) With that said, your trip can always be made longer or shorter, depending on what you decide to do. 
7-day Ireland's Ancient East road trip itinerary
Thanks to the dramatic scenery and many castles, abbeys and historical sites embedded into the landscape, all you need is a great playlist for that rental car and you're looking at a dreamy combo. Of course, making the most of your time away in the east of Ireland is all about getting your itinerary just right. So let's take you back in time and bring some Irish myths and legends back to life…
(Don't forget – this road trip can also be done in reverse!)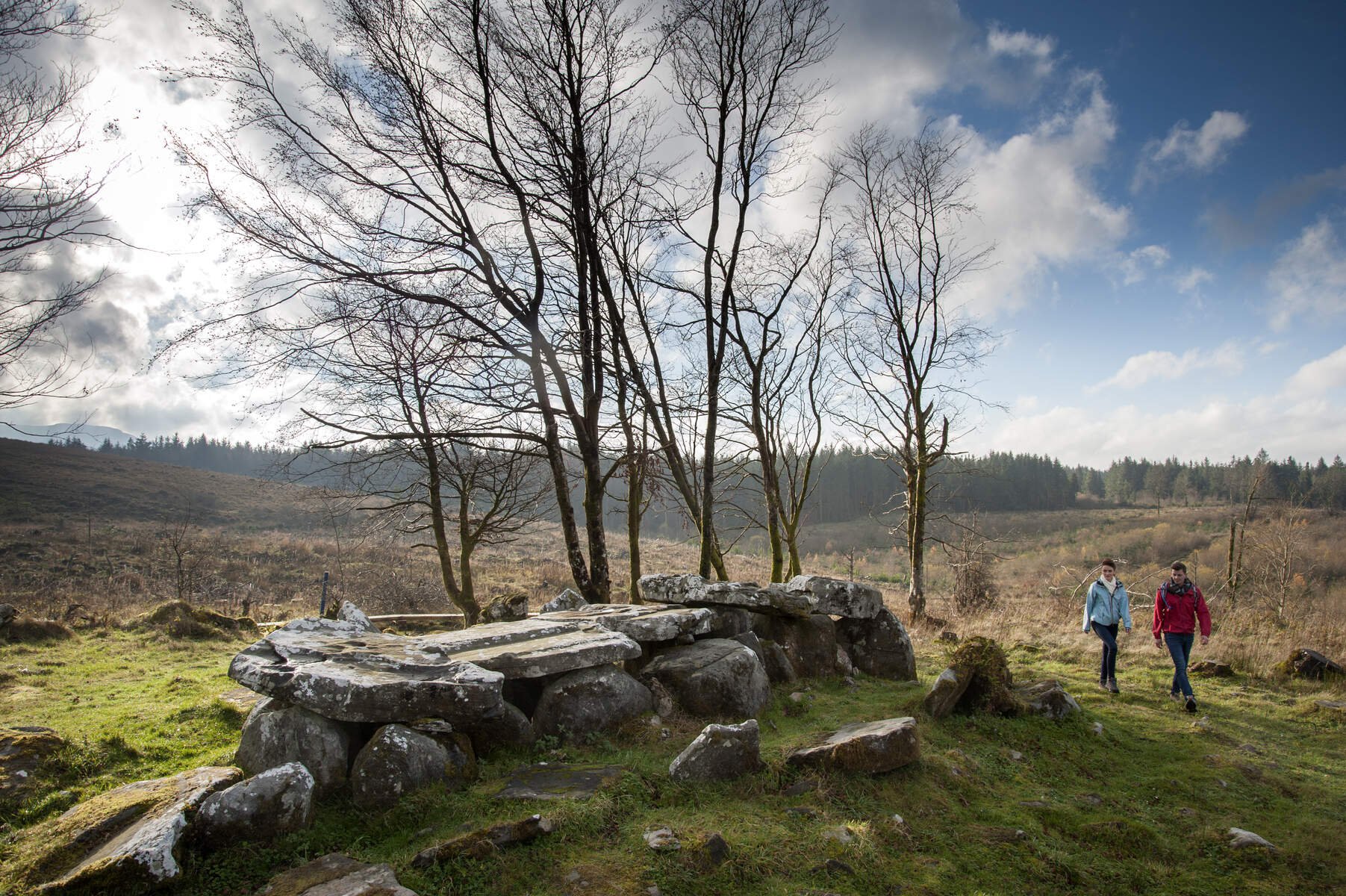 Day 1: Cavan - Monaghan
Driving time: 2.5 hours/100 miles
Highlights: Cavan Burren Global Geopark, Killykeen Forest Park
Overflowing with jaw-dropping panoramic vistas, tiny remote towns, mystical forests, lakes galore and an impressive collection of nature parks and prehistoric sites, any description we could rustle up here could never do the real-life beauty of counties Cavan and Monaghan justice. 
First stop is Cavan Burren Geopark, with its walking trails that meander through a maze of Megalithic tombs, ancient stone walls and underground caves. Next, it's onwards and upwards to picturesque Killykeen Forest Park – the perfect place for a family day out thanks to its easy walks and picnic site. Here, you'll find activities like walking, cycling or mountain biking, close encounters with Ireland's native wildlife. 
Once you've made your way to Monaghan and watched the artisanal lace makers hone their craft at Carrickmacross, the Patrick Kavanagh Centre in Inniskeen is the perfect grand finale for literature lovers.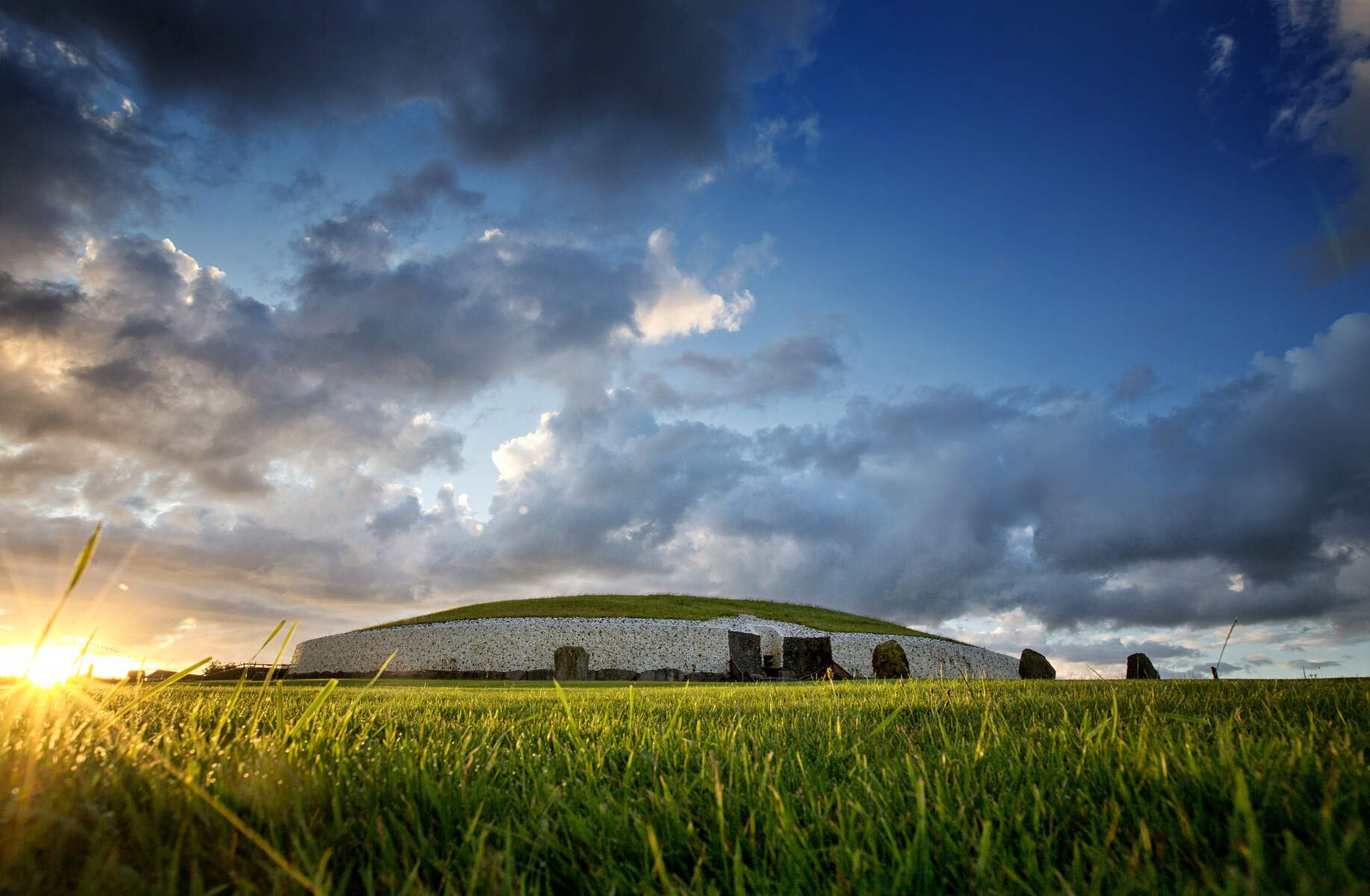 Day 2: Louth to Meath
Driving time: 3 hours/120 miles
Highlights: Boyne Valley, Hill of Tara, Loughcrew Cairns
Ireland is more than just a pretty place – among the wide mix of enchanting landscapes are a vast number of ancient ruins and sites built some 5,000 years ago during the Neolithic era. The Boyne Valley in Meath plays host to an intriguing array of ancient ruins ranging from an abundance of cairns and standing stones to forts and castles. Older than both the Egyptian pyramids and Stonehenge, Newgrange is the shining star of neolithic Ireland. Concealed within the grassy mound is an enormous passage tomb thought to be over 5,000 years in age and designed to align with the winter solstice. 
A mere half an hour's drive away from the Boyne Valley you'll find the Hill of Tara, an ancient stone-built complex that's believed to have been the seat of the High Kings of Ireland in Celtic times. Looking for yet another glimpse into bygone times in Ireland? You won't be disappointed by capping the day off with a visit to the ceremonial stone circles and burial site of Loughcrew Cairns.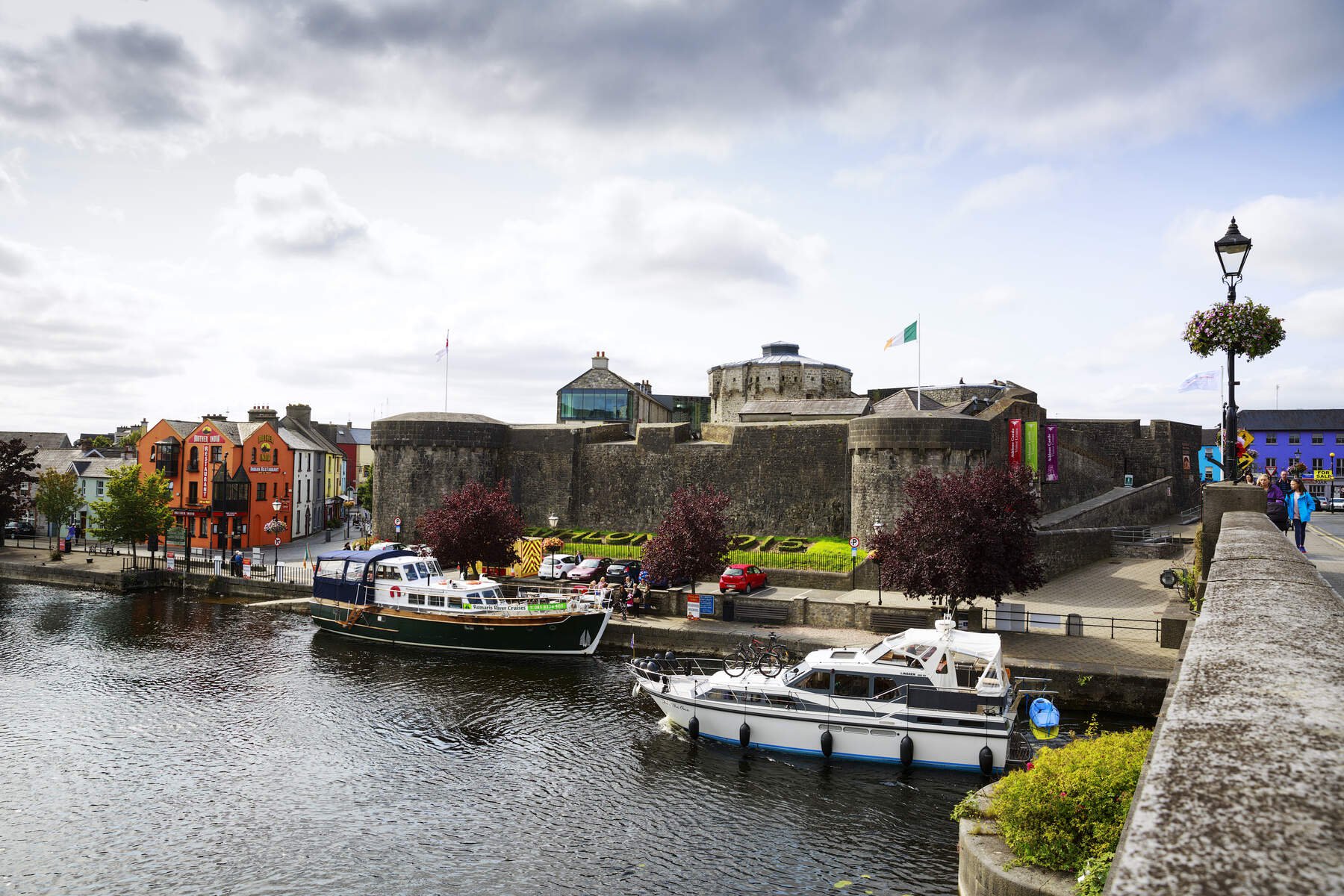 Day 3: Longford to Offaly
Driving time: 2 hours/75 miles
Highlights: Corlea Trackway, Athlone Castle, Clonmacnoise
Archaeology lovers, it's time to caffeinate and get on the road to marvel at Corlea Trackway. Built in the first millennium BC, this prehistoric bog road was first excavated in the mid 1980s. 
Ireland has a dramatic and colourful history, and to this day, the many castles scattered across the country are windows into the past, with Athlone Castle notable among them. As one of the most important Irish fortresses and strongholds, the castle has been involved in its fair share of historic disturbances and conflicts over its 900 years. Add a historical backdrop to your picnic and opt to dine in the castle courtyard, before heading along your merry way to Clonmacnoise, a monastic site founded in the 4th century and the final resting spot of the ancient kings and saints of Ireland.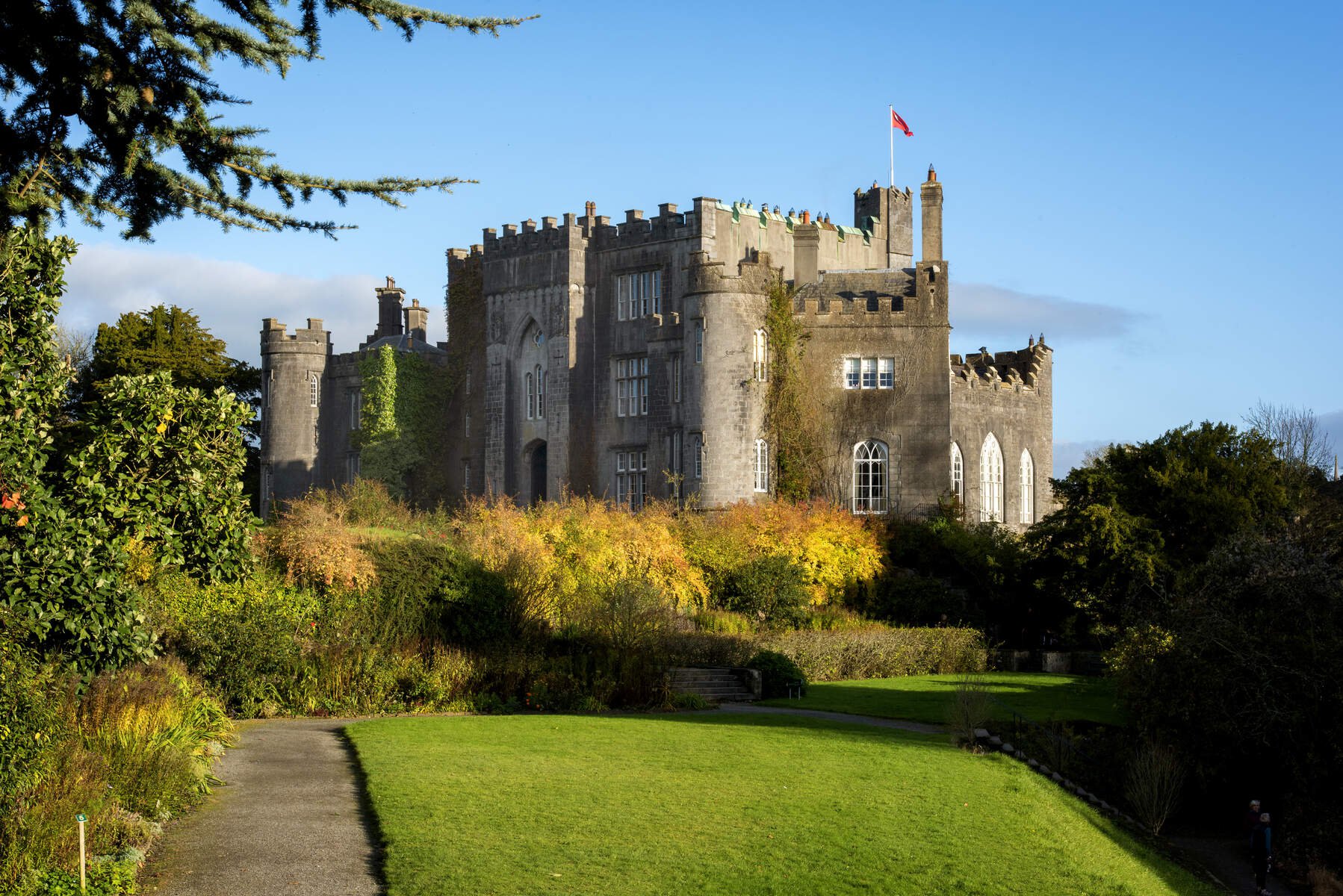 Day 4: Offaly to Kildare
Driving time: 2 hours 15 mins/95 miles
Highlights: Birr Castle, Emo Court
One of the most beautiful castles to visit on your self-drive tour of Ireland's Ancient East is Birr Castle in Offaly. This medieval fortress is open to the public and a little bit of a detour on your way to the Slieve Bloom mountains, but one that is entirely worthwhile. 
Finally, a pit stop at Emo Castle, indisputably one of Ireland's most historic – and spectacular – stately mansions. Inside lies a world of sophistication and luxury to be immersed in, a truly spectacular setting for you to discover the fascinating history of 18th-century Anglo-Irish nobility in Ireland.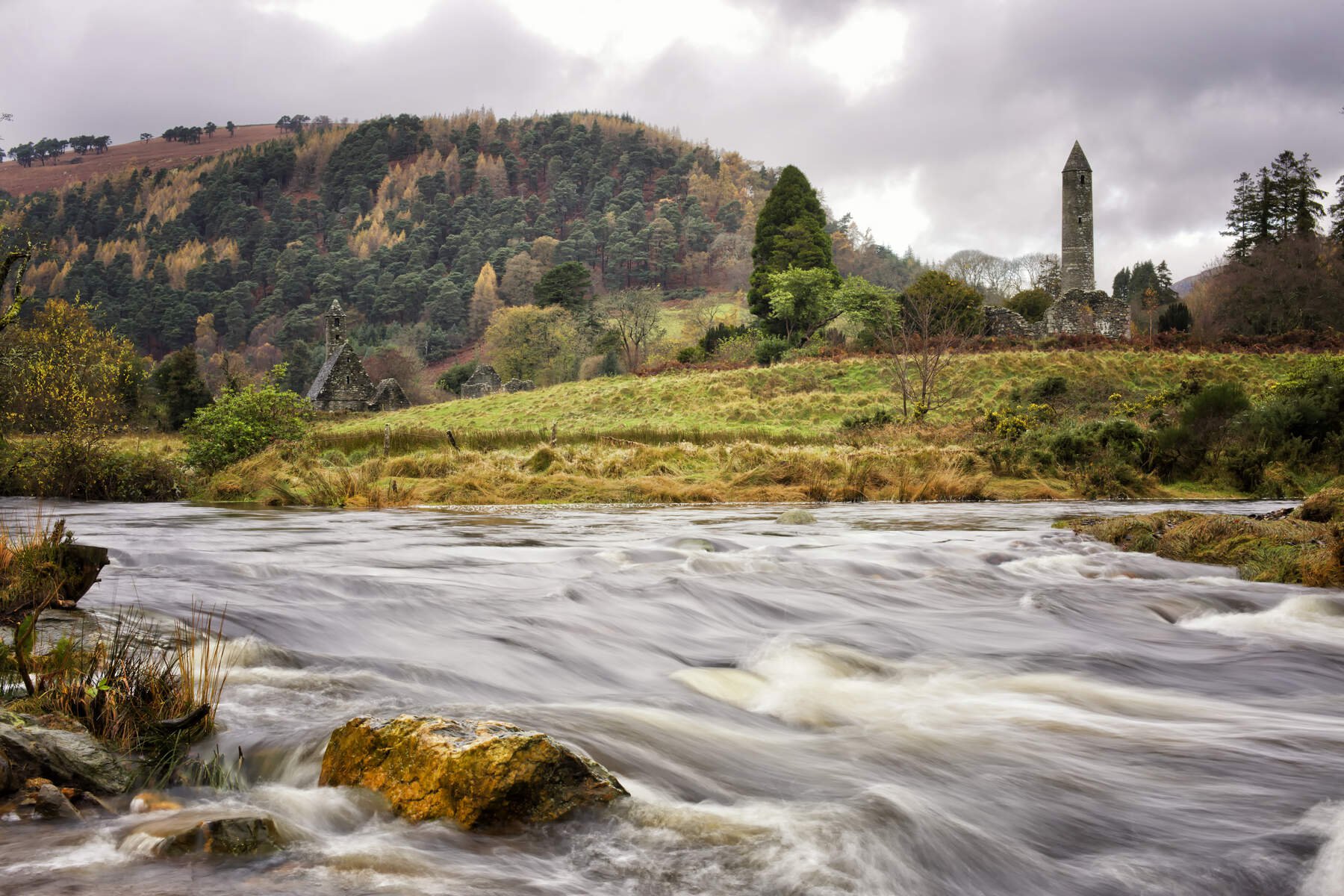 Day 5: Wicklow to Carlow
Driving time: 3 hours/120 miles
Highlights: Glendalough, Powerscourt House & Gardens
Time to pull on your hiking boots and pack a picnic for a trip to Glendalough, one of Ireland's most magnificent glens. This distinctive u-shaped valley was hewn by Ice Age glaciers and boasts panoramic views of the surrounding Wicklow countryside that are sure to make your heart skip a beat. Before you start your trek, though, make sure to set aside time to explore the ruins of the early Christian monastic settlement perched at the foot of the glen. 
Lastly, wind down with a leisurely late afternoon stroll through Powerscourt House, a Palladian stately home surrounded by 19 hectares of sweeping landscapes studded with horticultural gems.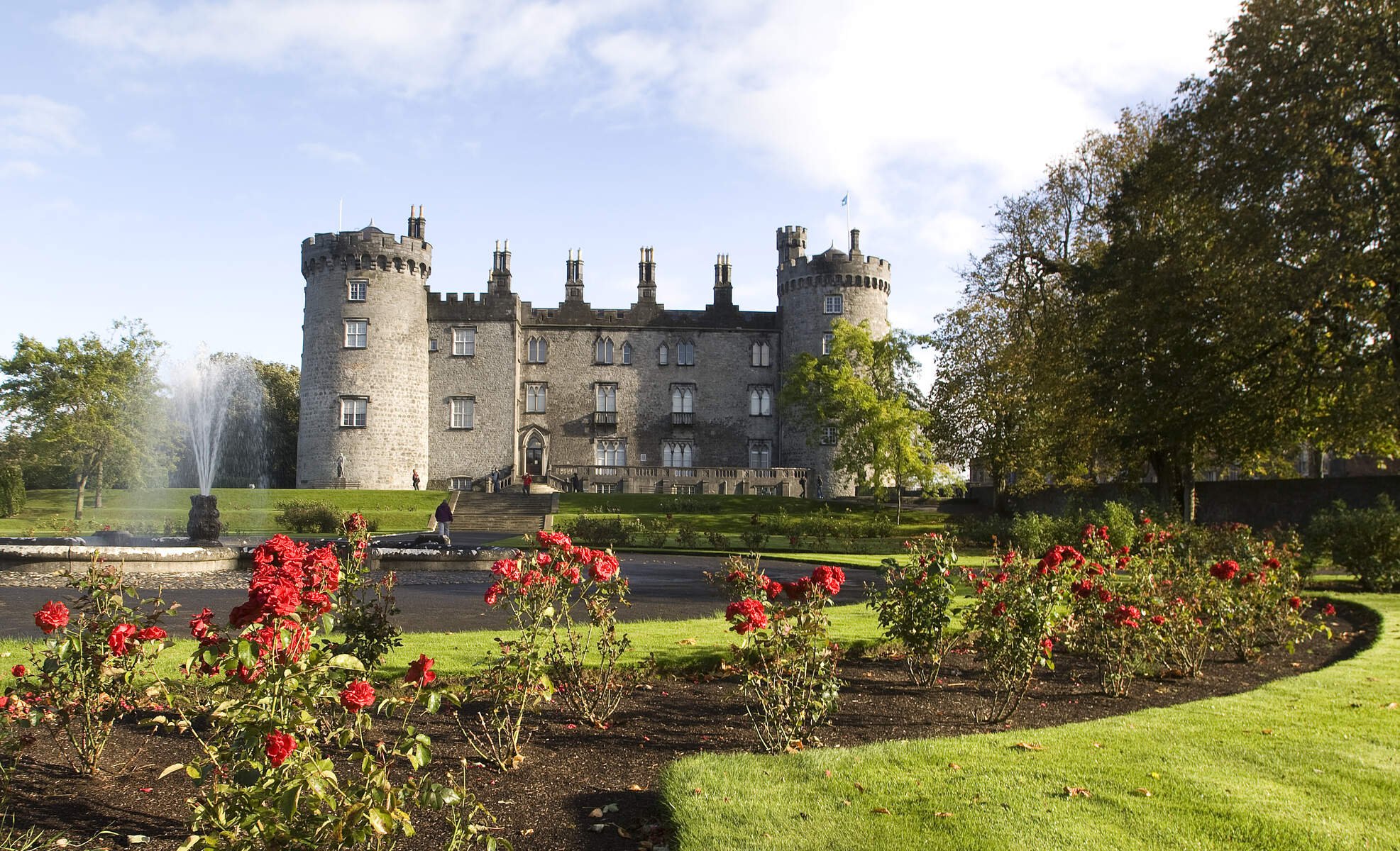 Day 6: Kilkenny to Waterford
Driving time: 2.5 hours/100 miles
Highlights: Kilkenny's Medieval Mile, Dunbrody Famine Ship
First thing on your Ancient East itinerary today is the ancient city of Kilkenny, where you can easily while away most of the morning wandering through the medieval alleyways and old cobbled lanes of the Medieval Mile. There are few cities in the world as redolent with history as Kilkenny, so be sure to take your time and really soak up the unique atmosphere. The area has long attracted artists and bohemian types, so while there's plenty of sights to enjoy, make time to visit the local art galleries and boutiques while you're here.
Interested in learning more about the history of the Irish diaspora? A flying visit to the Dunbrody Famine Ship  – a replica of one of the "coffin" ships that transported Irish emigrants to North America in search of a better life – is a great way to round the day off.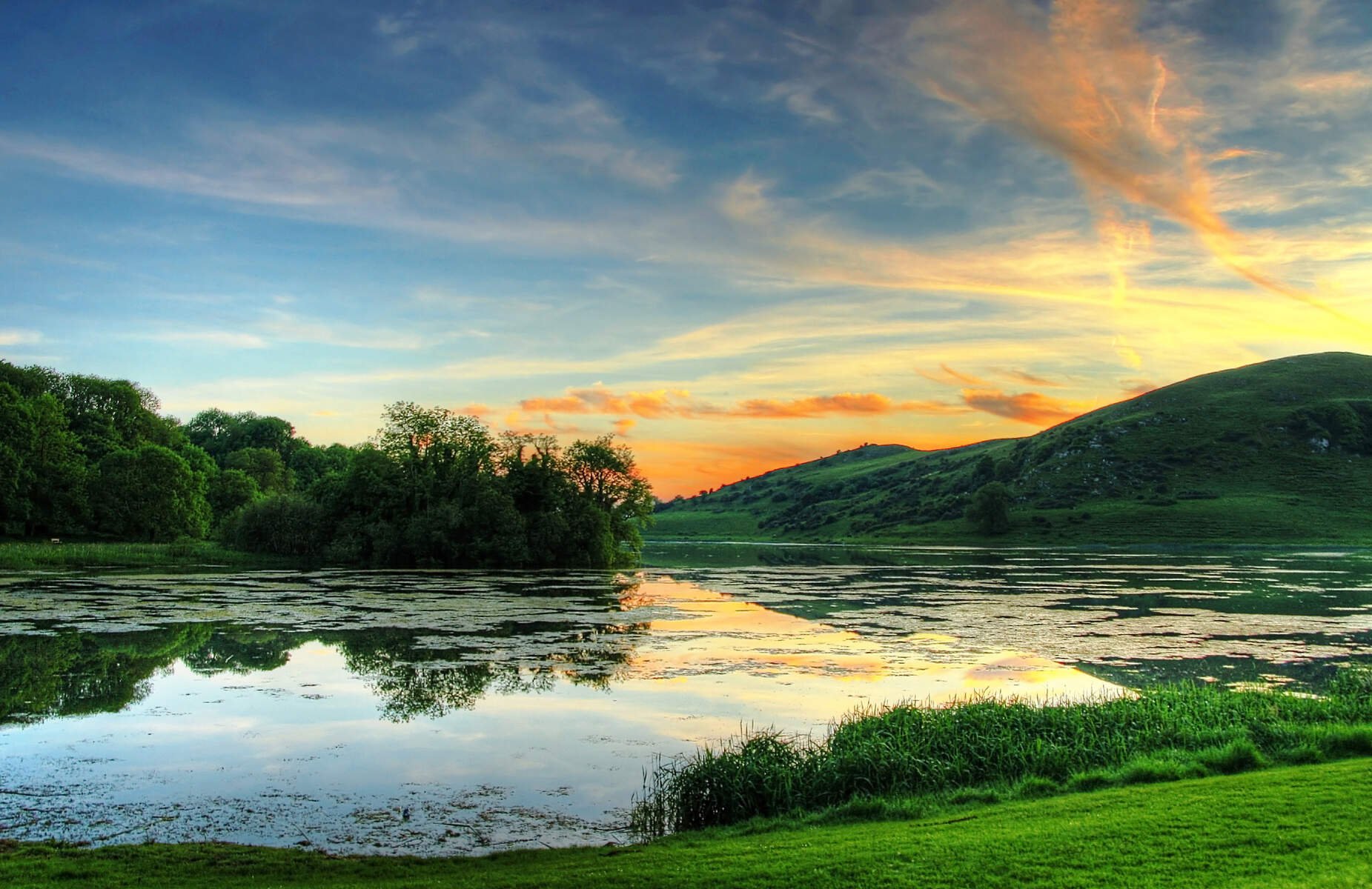 Day 7: Tipperary to Cork
Driving time: 2.5 hours/100 miles
Highlights: Rock of Cashel, Lough Gur
It's probably not news to you at this point that Ireland's Ancient East is home to more than its fair share of ancient sites, each with its own tale to tell. Not least of these is the Rock of Cashel in Tipperary, an imposing cluster of medieval buildings comprising a round tower, chapel, cathedral and castle, all perched atop a long, narrow expanse of limestone. Legend has it that the Rock of Cashel is where St. Patrick converted the King of Munster to Christianity! 
Continue your drive through Tipperary's Golden Vale and head towards Lough Gur in Limerick, an archeological site centred around an extraordinary horseshoe-shaped lake. Lough Gur is home to Ireland's largest standing stone circle and there's no denying their overwhelming presence and splendour. Celebrate the end of your epic road trip with a walk through the colourful town of Cobh – relax, sit back, soak up the atmosphere, you're done!