Visiting Ireland? Here are the Best Places to Eat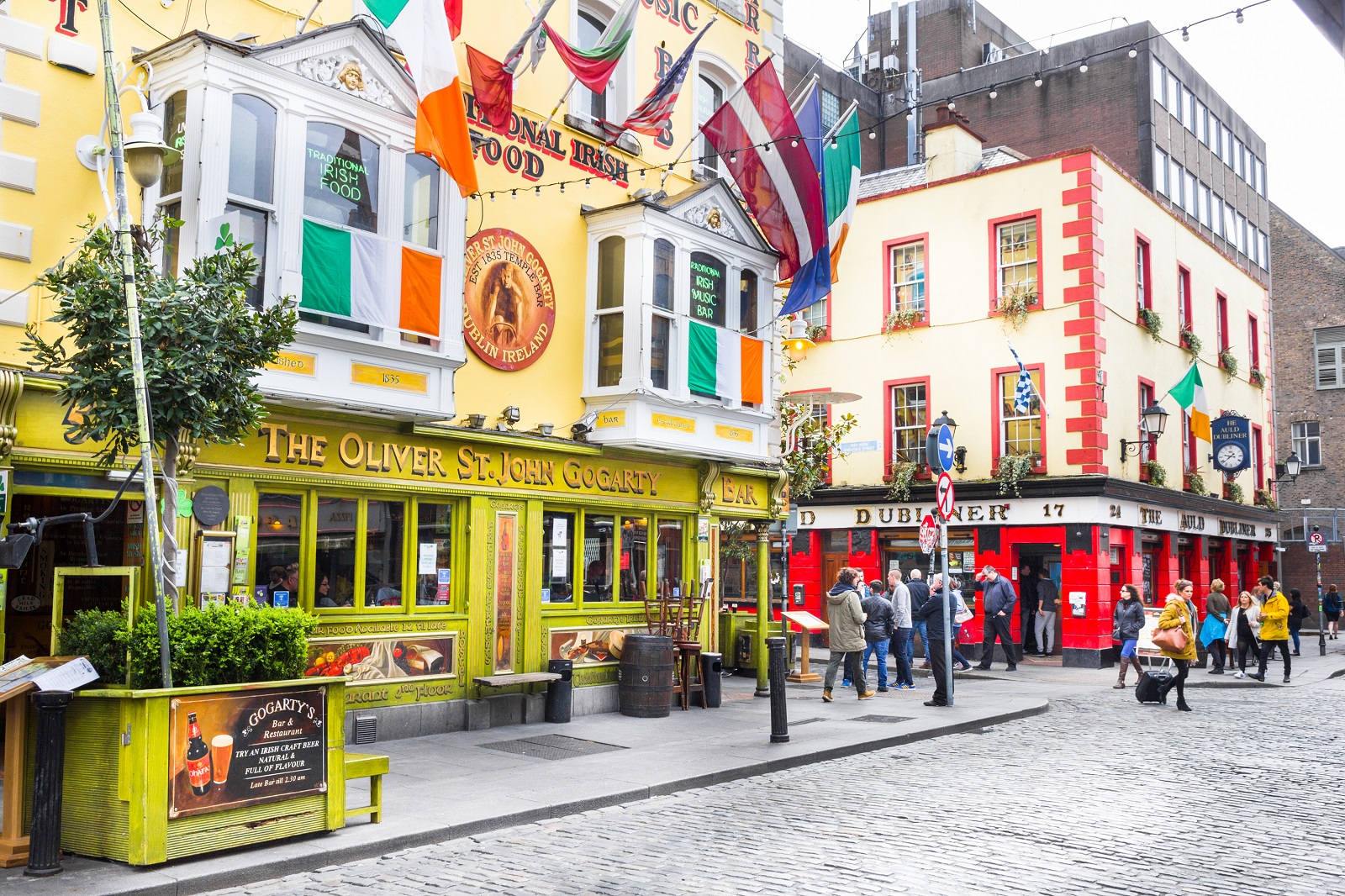 We know, Ireland may not be held in the same culinary esteem as the likes of Italy or Spain, but the truth is, there's a wealth of exceptional places to eat all over the country. In recent years, the food scene has gone from strength to strength, with plenty of funky new concept restaurants appearing alongside the traditional 'pub-grub' type food we all know and love.
With Ireland being a powerhouse in growing fresh, local produce along with excellent farming and fishing industries, you can be sure that whatever food you get will be as fresh as possible. 
With all of that said, you must be getting hungry! So pick up your rental car from Dublin Airport, arm yourself with our perfect Irish road trip itinerary, and get ready to discover the best places to eat in Ireland!
The Happy Pear
Located in the beautiful coastal town of Greystones in County Wicklow, The Happy Pear is a quick 40-minute drive from Dublin Airport. The ever-popular café serves vegan and vegetarian food only, but don't be put off if you're a meat-eater as they have some outrageously tasty and super creative options to suit everyone.
The Happy Pear began its life in 2004 as a fruit and veg shop set up by twin brothers Dave and Steve Flynn, who had a dream of making the world a healthier and happier place. Fueled by their passion for plant-based food, they then opened the café a year later and have never looked back, establishing itself as one of the best places to eat in Ireland.
The energy of the café is infectious, especially if Dave and Steve are around as their larger than life personalities will lift your mood, even if you have to queue for a table which can be a regular occurrence. 
A favourite on the menu is the black bean burger, whilst the porridge is perfect for warming the bones on a cold winter day!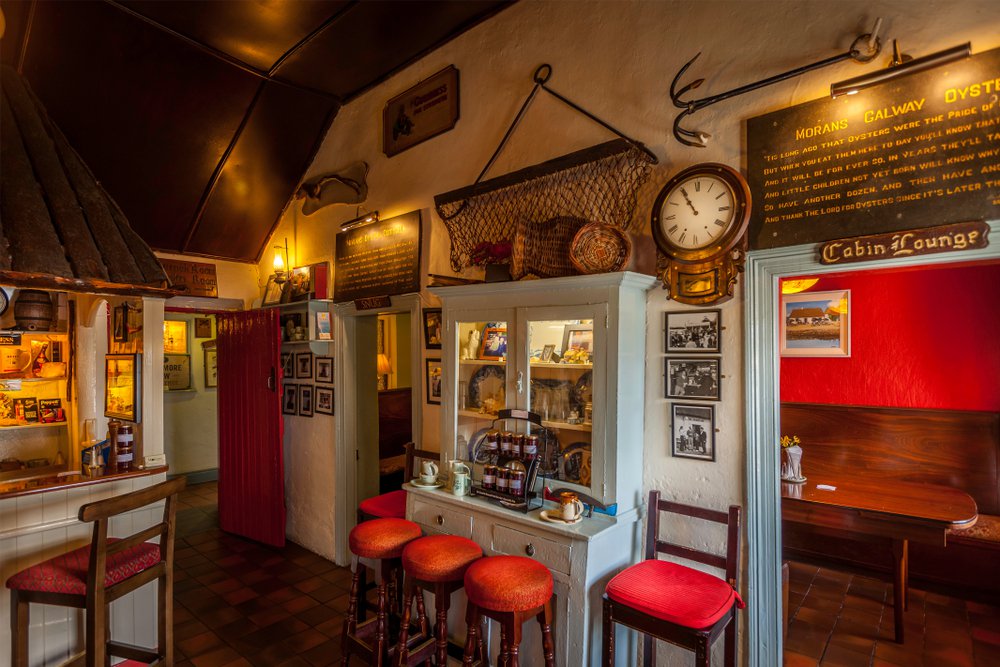 Moran's Oyster Cottage
Serving the famous Galway flat oyster since 1966, Moran's Oyster Cottage is a firm favourite with those looking for truly special Irish eating experience.
The thatched cottage itself is over 250 years old and is situated on the edge of the Atlantic Ocean, so you know the food is going to be fresh! While it may be an old building, there's a wonderfully cosy atmosphere inside, with plenty of snugs to settle down and enjoy your meal. We suggest you then wash it down with a creamy pint of Guinness. If the weather permits, you can also sit outside and enjoy the amazing views of Galway Bay.
The history of the cottage is indeed fascinating, and even more so is the list of famous clientele who have enjoyed a bite to eat there. Hollywood stars such as Julia Roberts, Pierce Brosnan, Roger Moore and Woody Allen have all visited, as well as the Emperor and Empress of Japan. 
Moran's Oyster Cottage is even thought to have inspired the Seamus Heaney poem "Oysters", so they must be good!
Kai Restaurant
We're staying west and this time taking you to another Galway foodie favourite, Kai. Kai means food in the Maori language, the Kiwi influence coming from owner Jess Murphy, who set up the restaurant with her husband Dave (from Carlow, not New Zealand) in 2011.
Kai has established itself as one of the best restaurants in Ireland based on its simple formula, "high-quality produce, preferably organic or wild, sourced locally and cooked intelligently." The menu changes based on the seasons, so whatever is in season will be served up to you.
You'll also feel right at home in Kai, which has been designed to make you feel as if you've already been there, even if you've never stepped foot in Galway before! The stone floors, wooden furniture and moody lighting create a superb atmosphere that you just won't want to leave.
Tip: If you're in the West of Ireland, check out our Scenic Drive from Galway to the Cliffs of Moher guide!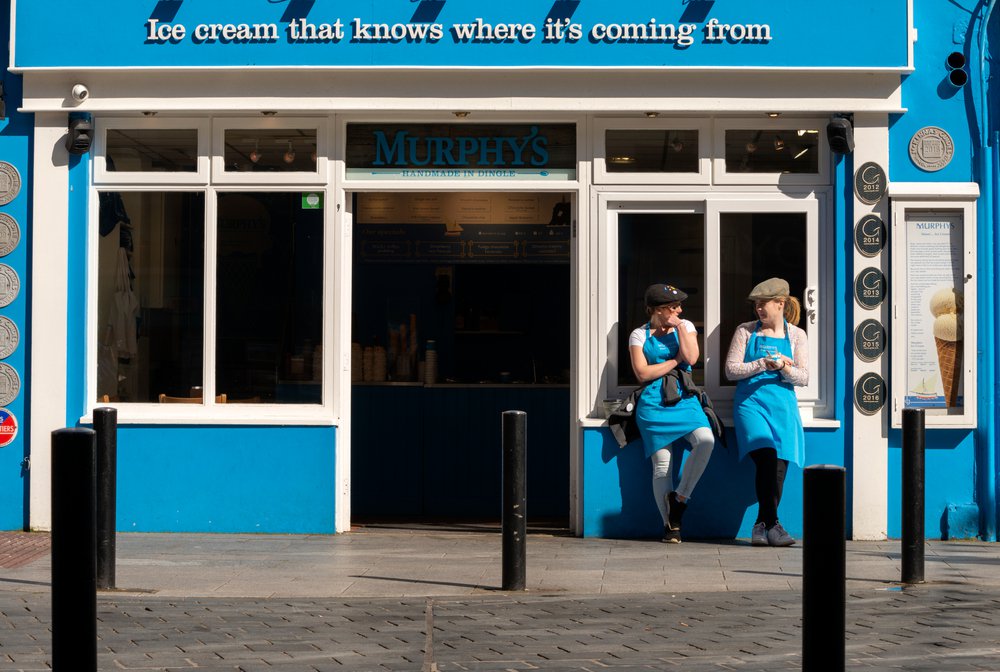 Murphy's Ice Cream
Yes, we know, it's not a restaurant but it definitely deserves to be on this list! Located in one of Ireland's tourist hotspots Dingle, Murphy's Ice Cream was set up in 2000 by Sean and Ciaran Murphy with the goal of making the best ice cream in the world.
Nestled amongst the pubs and restaurants in Dingle, you'll likely see a bit of a queue outside a blue shop on Strand Street: here lies Murphy's. Pop inside and be ready to be mind blown by a range of ice cream flavours you've never seen before. Of course there's the old classics like chocolate, cookies and strawberry, but have you ever had brown bread flavoured ice cream? How about Dingle gin flavour? Go on, try one out!
The team at Murphy's is passionate about using only the freshest ingredients sourced locally. Part of what has made the shop so popular is the fact that they are constantly experimenting with new flavours. In the past, they've produced cinnamon flavour, candied chilli pepper flavour, Christmas pudding flavour, and even smoked salmon flavour ice cream (we're told this was disgusting... you can't win 'em all!)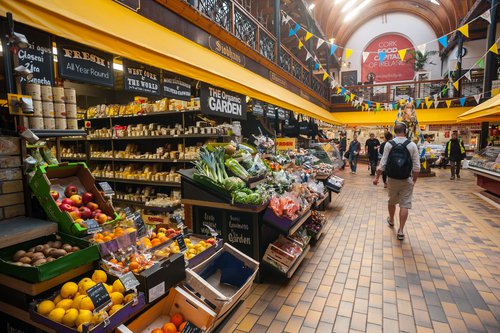 The English Market
Established way back in 1788 as a food market, the English Market in Cork city centre is now at the heart of this foodie haven. With a history as rich as its food, it's well worth a visit.
Whilst there are a multitude of food stalls to choose from, there are a few which are consistently recommended. Tom Durcan Meats has been trading in the market since 1990 and is renowned for serving the most delicious cuts of lamb, spiced beef and sausages. Frank Hederman has dedicated over 35 years to the craft of smoking salmon using traditional hang smoking methods, and his delicious products are always popular amongst revellers in the market. 
If you're feeling peckish while you're wandering around the market, head upstairs to Farmgate Café and sample traditional local dishes such as tripe (cow's stomach) and onions and drisheen (lamb liver with bacon).
OX Belfast
If you venture up north in search of the best restaurants in Ireland, take a trip to OX in Belfast, overlooking the River Lagan. OX was set up in 2013 by a local Belfast man, Stephen and his French friend, Alain. The pair met in Paris while working in various Michelin Star restaurants and decided to bring something new to the Belfast restaurant scene.
Since then, the restaurant has been on an upward trajectory, receiving its own Michelin Star in 2016, along with being featured as one of the world's 'hottest restaurants' by Condé Nast Traveller.
Ox prides itself on sourcing only the freshest, most sustainable ingredients, along with an excellent selection of wines procured by sommelier Alain.

Harry;s Shack
Staying up north, you're in for another delightful treat if the weather is right. Harry's Shack, quite literally a shack right on the beach at Portstewart in County Derry, serves up some of the most delicious food you can imagine. 
Opened in 2014, Harry's Shack has a sister restaurant close by that has its own two-acre farm which supplies most of the fruit and vegetables served here. 
Whilst the menu changes quite often, you're sure to find all of your local seaside favourites such as fish and chips and burgers to munch on while you feel the sand in between your toes.
Whatever corner of Ireland you're drawn to and whatever your taste, a meal to remember is never too far away, especially when you have the freedom to hop in your rental car to track down the hidden gems.. 
CHECK OUT OUR RENTAL CARS AT DUBLIN AIRPORT >